St. Mark's Sr. Sec. Public School


MEERA BAGH, NEW DELHI - 87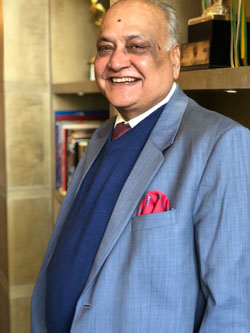 Mr. T. P. Aggarwal, the Chairman of St. Mark's groups of schools, has been working tirelessly in the field of education since 1975 andhas been awarded the Dr. Radhakrishnan Memorial National Teachers' Award for his tireless endeavours to provide quality education.

Mr. T. P. Aggarwal has an illustrious profile as he was the First Vice-President of International Federation of Film Producers Association FIAPF and also was the President of Film Federation of India, twice. Since 2006, Mr. T. P. Aggarwal has been President of IMPPA (Indian Motion Picture Producers Association), Chamber of Motion Picture Producers and also the Chairman of Film Makers Combine. He was the Charter President of the Rotary Club of Delhi, Janakpuri (R. I. District 3010).

Mr. Aggarwal is a great humanitarian anda philanthropist with a secular outlook. He takes his social obligations and responsibilities very seriously works with great sincerity for a number of social causes. He does not belong to any particular political party but continually works for the benefit and upliftment of humanity.

For Mr. Aggarwal the core purpose of education is to provide children with a learningenvironment which brings out the best inthem. He believes that every child is endowed with a unique set of attributes and abilities andthese need to be nurtured so that they blossom. Therefore, every child deserves an education that fosters academic excellence and all-round development, and also ensures their well-being. He insists on the use of modern technology in school for facilitating the give and take inthe process of education. His maxim in life is that everyone should be acknowledged and rewarded for good work done. He maintains that the youth of today should engage in social service as these experiences broaden their minds and add new facets to their personalities. Mr. Aggarwal strongly believes that the school should not only produce students who do well in academics, but who are also are well-groomed with grounded personalities and a positive attitude towards life.

Mr. T. P. Aggarwal ensures that St. Mark's School has an ideal environment for all the people involved to achieve the goal of high standard in producing good, responsible citizens of India.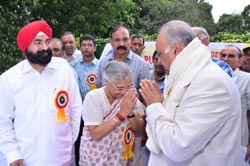 It was a proud moment for St. Mark's Sr. Sec. Public School, Meera Bagh, when our Chairman Mr. T. P. Aggarwal was felicitated by the Chief Minister of Delhi Ms. Sheila Dixit, for being elected the First Vice President of International Federation of Film Producers' Association (An Apex Body of Global Film Producers). This was during the 64th Cannes Film Festival held in May 2011.

Mr. T. P. Aggarwal is presently the Chairman of the Film Federation of India as well as the President of the Indian Motion Picture Producer's Association. He is also the Chairman of Film Makers' Combine.