St. Mark's Sr. Sec. Public School


MEERA BAGH, NEW DELHI - 87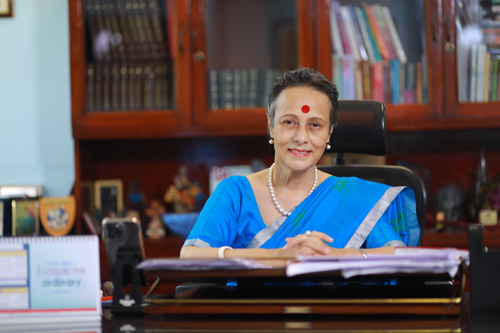 Ms. Anjali Aggarwal, the founder Principal, has been recognized and awarded time and again for her vision and outstanding work as an educationist. Recipient of many awards, such as the 'Radha Krishnan Memorial Award', the 'PTA National Award' by the Parent Teacher Association of India, the 'Outstanding President of the Year' award for two consecutive years i.e. 1994-95 & 1995-96 by Rotary District 3010 and the 'Leadership Award for Excellence' by Confederation of Educational Excellence, she was also felicitated with 'Life Time Achievement Award' by Women International Network.

Ms. Aggarwal has varied interests and is, particularly, passionate about reading, poetry, dramatics, music and travel. With over 30 years of experience as an educator, she has been a prominent and significant part of many changes made in the field of education. Her compassion not only for human beings but also for animals has motivated students to realize their social responsibilities and are always ready to extend help and support for such social causes. Meditation, twice a day, for the whole school sows the seeds of introspection and self-control in the young impressionable minds. A visionary who likes to keep pace with the latest trends in school education, Ms.Aggarwal believes in the right amalgamation of the latest technology and textbooks in a classroom so much so that she was invited as a panelist to the conference "Theory Meets Practice: Teacher Training in the Digital Era" held in Zug, Switzerland wherein she addressed the issue of the challenges which originate from digitalisation of education and how essential it is to empower the teachers to tackle them.

A firm believer in harmonious peaceful coexistence, Ms.Aggarwal encourages awareness and learning from the various cultures across the world an outcome of which are the numerous cultural exchange programmes for students. She fosters the spirit of peace and harmony in her students and helps them become responsible global citizens. Not only does this exposure benefit students but also enables the teachers and students of other countries to know and learn about our rich Indian culture and traditions.

Her constant, untiring efforts have led St. Mark's School to become a prominent institution not only in Delhi but also at the international level. She loves to engage with children of all ages and wants them to blossom as good human beings.

Recently, she was honoured with the Progressive Principal of India Award at the Fifth Estate National Convention of eduLeaders for creating a leadership position inspiring and guiding the School Ecosystem of India. Under her dynamic leadership, St. Mark's School, Meera Bagh continues to spread its wings all across the globe nurturing the citizens of tomorrow.