St. Mark's Sr. Sec. Public School


MEERA BAGH, NEW DELHI - 87

Click here for the Results


Click here for the Results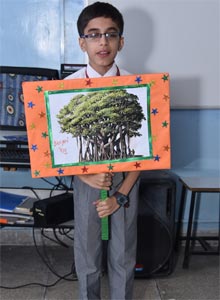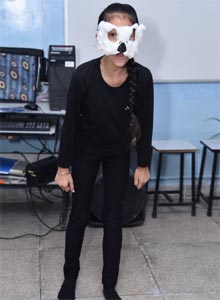 St. Mark's Sr. Sec. Public School, Meera Bagh organized Quest from 12 August to 20 August, 2016 which had numerous Maths and Science activities like Research based paper, Let's Elucidate, One minute activity, Puzzling fun, Know your Mathematician. 321 students from Classes VI to XII participated in the various activities. The aim was to ignite young minds to think of new scientific ideas.

The events were followed by a Science and Maths Exhibition on 20 August, 2016 wherein students showcased their ideas and innovations. The visitors were left mesmerized by the 'Vertical Garden' and 'You and Me' displays at the school reception. More than 250 students from Classes V to XII prepared exhibits in science and maths. Parents enjoyed the one minute activities and were fascinated by the colourful, informative and scientific endeavours of students.

An eminent panel of judges comprising of Dr. S. K. Jain (Delhi University), Dr. G. S. Tuteja (Deputy Dean, Delhi University), Dr. Kiran Arora (Kirori Mal College, Delhi University), Dr. Satish Verma (Delhi University) and teachers from Heritage School (Rohini) and St. Francis De Sales School (Janakpuri) judged the exhibits. The winners were awarded certificates and prizes.
St. Mark's Sr. Sec. Public School, Meera Bagh celebrated Annual Maths and Science Festival - Quest from 17 to 24 August, 2015. It gave students an opportunity to discover new scientific and analytical ideas and to know how science and maths are involved in our daily life. The interest of the students was clearly evident from their active participation in events like 'Know Your Scientist, Science behind nature, Debate, Puzzling fun, Sudoku', etc. Students of classes VI to XII participated in the Science and Maths Exhibition where they displayed various models.
St. Mark's Sr. Sec. Public School, Meera Bagh, organized the annual Science and Maths festival QUEST 2011 from 23 August 2011 to 27 August 2011. Under Quest 2011, various activities were organized for the students :

1. Know the Scientist (Class VI)
2. Health & Hygiene (Class VII)
3. Power Point Presentation (Class VIII)
4. Quiz on I.Q. (Maths) (Class IX)
5. Setting Up of Apparatus (Class X)
6. Science & Maths Quiz (Class XI)

The week long programme culminated in a grand Science and Maths Exhibition on 27 August 2011. Best Models from all classes (V to XI) in Science and Maths were selected and displayed. The event was judged by prominent members of educational institutions including Dr. Sagar, Vice Principal, Shivaji College, Delhi University, Dr. G. S. Tuteja, Delhi University and Ms. S. Datta, a Science Teacher. It was a good learning experience for all.
Maths Quiz for class XI (Science and Commerce streams) was held on 25 August 2011, as part of Quest 2011. Six teams of two members each participated. The Winners are Garvit Arora and Sahil Talwar of Class XI G and Runners up are Guneet Kaur and Yash Bhardwaj of class XI E.
Science Quiz was conducted in St. Mark's Sr. Sec. Public School, Meera Bagh on 25 August, 2011 as a part of QUEST 2011 activities. The quiz consisted of Multiple Choice Question round, direct question round, and rapid fire. The response was enthusiastic with active participation from the audience. The questions covered the three streams of Science namely Physics, Chemistry and Biology.

The winners were :

I Prize : Aakash Dua (XI F), Srishti Manocha (XI F)
II Prize : Rishabh Lamba (XI G), Prajna Mehndiratta (XI G)
Class XII students of St. Mark's Sr. Sec. Public School, Meera Bagh participated in Power Point Presentation held on 24 August, 2011 as a part of QUEST 2011 activities. The topic was 'Effects of Modernization on Environment'. The students prepared the presentations on a wide range of sub – topics like communication, transportation and life style.

It was an enriching experience for all participants. The prize winners were :

I Prize : Kashish Goyal (XII D), Aishwarya Munjal (XII D)
II Prize : Aditi Roy (XII F), Aradhwik Magotra (XII F)
III Prize : Shibika Suresh (XII E), Kriti Rai (XII E)
Consolation : Gaurav Soni (XII E), Shilpi Aggarwal (XII E)
A Power Point Presentation was held on 23rd August, 2011 by the students of class VIII of St. Mark's Sr. Sec. Public School, Meera Bagh. The topic of the presentation was 'Role of Micro organisms in our daily life'. The students made wonderful slides and presented them very well. The students highlighted the useful and harmful effects of various microbes.

The prize winners were :

I Prize : Vinay Singla (VIII E), Ananya Singhal (VIII E)
II Prize : Shelly Gupta (VIII F) , Nirbhay Shokeen (VIII F)
III Prize : Lakshay Kapur (VIII C), Kashish Bansal (VIII C)

The winners were given prizes by the Principal Ms. A. Aggarwal and the Educational Supervisor Ms. Ritika Anand.
During Science Quest 2011-12, Know The Scientists Competition was held on 23 August 2011 in St. Mark's Sr. Sec. Public School, Meera Bagh. Thirty five students of class VI participated in it. It was an opportunity to know and express deep gratitude towards the intellectual minds of the world. The students peeped into the lives of great scientists, their achievements and contributions to the development of human life.

The winners were as follows

First prize - Kulpreet Kaur (VI G)
Second prize - Kunal Sharma (VI F)
Third prize - Hitanshi Narang (VI G)

First consolation prize - Mansi Marwah (VIC)
Second consolation prize - Kaushik Koul (VI C)
Third consolation prize - Sanya Arora (VI F)
St. Mark's Sr. Sec. Public School, Meera Bagh, organized the Annual Science festival QUEST 2010 from 18 August 2010 to 21 August 2010. Under Quest 2010, various science related activities were organized for various classes :

1.

Science Quiz for class V, IX and X


2.

Science Toons for class VI


3.

Slogan Writing and Poster Making competition for class VII


4.

Power Point Presentation for class VIII


5.

Science Quiz for classes IX and X


6. Science Debate for classes XI and XII

The grand finale was Science and Maths Exhibition, which was held on 21 August 2010 for classes V to XII. Each room had 15 displays and a banner highlighting a scientific or a mathematical concept. Models from the various categories like Meal Planning, Commercial Art (SUPW) and Eco Club were also displayed. The parents enjoyed the Science Quiz organized specially for them. A small audio-visual room showcased the short documentaries made by the students on environment.

The judges appreciated the efforts of the students and gave a special mentioned to the 1 minute activities performed by the students of classes IX and X.

As a part of Quest - The Inter House Science Quiz for classes IX and X was held on 18 August 2010. Nehru House stood First, followed by Patel House as Second.



The proud winners of Nehru House were :
Devansh Mittal (X G),
Pahulpreet Singh (X F),
Siddhart Singh (IX A) and
Rohit Raman Banerji (IX F).

Those who stood second were – Deepesh Bansal (X G) , Prashant (X B), Rishabh Baluja (IX E) and Utkarsh Garg (IX F).
The results are as follows :


Prize
Model No.
Exhibition Name
Class
I
S5C
Parts of the Brain
V B
II
S5B
Electric Bell
V A
III
S5L
Water Alarm
V F
Cons.
S5D
Wind Energy
V C
I
S6F
Comparison of Fluids
VI F
II
S6M
Levitation Pencil
VI C
III
S6A
Wave Machine
VI E
Cons.
S6J
Flood Alarm
VI G
SUPW-I
SU8
Hotel Management System
XII
I
S7N
Sending of Light
VII G
II
S7L
Air Thermometer & Electrolysis
VII A
III
S7M
Methods of Irrigation
VII C
Cons.
S7E
S7A
Digestive System of Ruminant
Electromagnet Crane
VII B
VII A
I
S8D
Air & Water Pump
VIII B
II
S8B
C. T. Scan
VIII A
III
S8E
Morse Code
VIII C
Cons.
S8A
Eco-Friendly Society
VIII A & B
One Minute Activity
I
A9
Mystery behind Science
X D
II
A4
Electricity & Magnetism
IX E
III
A10
Light Tracker
X G
Cons.
A7
A2
Surface Tension
Air Preseure
X B
IX C
X - Models
I
S10B
Infrared Sensing Car
X C
II
S10C
Working of Satellite
X A
III
S9F
Modern Hotel
IX C
III
S10D
Human Heart
X A
XI & XII
I
S11I
Hybrid Chimney
XI G
II
S12C
Perfume Making
XII E
II
S12F
Deodrant Analysis
XII E
III
S11F
Colour Paint
XI F
Maths
I
MIE
Area of a Circle
VII A
I
MIG
Sum of Exterior Angle of a Polygon=360
VII E
II
M1A
Symmetry
VI A
II
M1K
The figure obtained by joining the mid points of a Quadrilateral is a Parallelogram
VIII A
III
M1F
Converting a Square into an Isosceles Triangle of teh same area
VII B
III
M1M
To prove Pythagorus Theorem
VII B
M II
I
M2D
Cartesian Plane
X E
I
M2F
Verification of Thales Theorem
X B
II
M2E
Probability
X B, C
III
M2A
To verify a - b = (a+b)(a-b)
IX C
Science Debate
Best Speaker
(FOR)
SHIKHA SAFAYA
HARSHLEEN KAUR
XI E
XII B
Best Speaker
(AGAINST)
SHIBIKA SURESH
SANYA SAHNI
XI E
XI G
Power Point Presentation
DHRUV & MOHIT
PALAK & ARJUN
VIII C
VIII B
Inter House Quiz (IX & X)
Nehru House
SIDDHARTH SINGH
PAHUL PREET SINGH
ROHIT RAMAN BANERJEE
DEVANSH MITTAL
IX A
X F
IX F
X G
Science Quiz
I
MANAV PRABHAKAR
KUNAL SHARMA
ARJUN BAJAJ
II
AMAN GOEL
MAANVI MUDGIL
SATWIK ARORA
Science Toons
I
SUJATA MAHAJAN
VI C
II
RIYA GUPTA
ANJALI BANERJEE
VRINDA GIROTRA
VI C
VI A
VI C
Cons.
MUSKAN PANDYA
HARSHITA KAKODIA
YASHA JAIN
VI A
VI E
VI G
Slogan Writing
I
SAMAT KR. ARORA
VII A
II
DIKSHA AGGARWAL
VII F
III
KANIKA KARWAL
DEEPANSHI MAKKAR
VII A
VII B
Cons.
SOHMYA VERHMANI
GAURI GUPTA
VII F
VII C
Poster Making
I
MAYANK SHARMA
VII G
II
KASHISH BANSAL
VII B
III
SHELLY GUPTA
VII G
Cons.
ARUL DAHIYA
GEETANSHI DHAWAN
YASH ARORA
VII A
VII B
VII E
The grand finale was the Science Exhibition, which was held on 21 August 2010 for Classes V to XII. Each room had 15 exhibits and there were separate rooms for Maths, Science and SUPW. The 'one-minute activity' done by the students of Class IX & X amazed the judges and parents alike.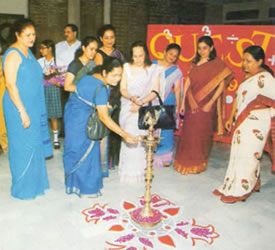 Students of St. Mark's Sr. Sec. Public School, Meera Bagh, celebrated QUEST - The Science Fair, on 20 August 2009 and 21 August 2009 with immense zeal and zest. A "One Minute Experiment" was conducted on 20 August 2009, as a prelude to 'Quest' for Class VI. Children showed a number of one minute experiments with day to day things and explained the scientific phenomenon and principles behind them.

The first prize winners were :
» Shelly Gupta and Mayank Sharma of Class VI-G

Class VII students prepared display boards on 'Food and Adulteration' to increase the awareness among people regarding adulterations and their effects.

A 'Power Point Presentation' Competition was also conducted on 21 August 2009 for students of Class VIII & IX. They presented the topic 'Energy in the Nucleus' and 'Genetics' respectively. Efforts of the students were appreciated.

The first prize winners were :
» Lakshay and Siddharth of Class VIII-D
» Prayanshu Sharma and Ravit Malik of Class IX-G