St. Mark's Sr. Sec. Public School


MEERA BAGH, NEW DELHI - 87
Each year we participate in the Atelier Campus Theatre Festival, the world's largest Youth Theatre fiesta organized by Atelier Theatre. Supported by artists across the nation including Saurabh Shukla (Film actor and writer), Piyush Mishra (Actor and Singer), Gul Panag (Film Actor), Lushin Dubey (Theatre and Film Actor), Vinay Pathak (Film Actor), to name a few, the Festival Director, Kuljeet Singh is also a theatre person and film actor.

The theatre groups of College of Vocational Studies, Institute of Home Economics and Miranda House performed three street plays in our school grounds – Bachpan, Let It Go and Jal Bataa Shunya tackling the burning issues of childhood trauma, politics and importance of saving every drop of water.
Atelier Theatre Group, as a part of Act11 - their Campus Theatre Festival across five states presented two short plays by the theatre societies of DU colleges in St. Mark's Sr. Sec. Public School, Meera Bagh, Delhi.

The Play Sapno Ka Bojha by the theatre society of Janki Devi Memorial College targeted the growing issue of Delhi's garbage disposal, hardship faced by the ragpickers and what measures can we as individuals take to lighten their burden so that they too can dream. Khalsa College dealt with the issue of parental pressure on their children to succeed in every sphere of life and the growing rat race. The concept and brilliant acting skills touched the heart and soul of teachers as well as the students present.
Social Issues need consciousness not ignorance! Atelier Campus Theatre, an annual festival, presented 3 such plays in St. Mark's Sr. Sec. Public School, Meera Bagh. The plays aimed to sensitize the young minds towards their role in creating a better society. The plays presented were 'Maila Kuchaila' by Janki Devi Memorial College, 'Badhazmee' by Kamla Nehru College and 'Machine' by College of Vocational Studies. It was a good way to voice one's thoughts through this medium.
On 23 February, 2016 the Dramatic Societies of four colleges i.e. Indira Gandhi Delhi Technical University, Hansraj College, Shaheed Bhagat Singh and Lady Sri Ram College presented street plays on various social issues such as Indian Economy, Women Empowerment, etc. The students of classes IX, X and XI of St. Mark's Sr. Sec. Public School, Meera Bagh witnessed the dramas unfold which sensitized them about various issues which are a cause of an alarm in society.
Day 1 of Zonal Round of the 5th episode of Bachpan 2015, a children's theatre festival was organized by Atelier Theatre Group and hosted by St. Mark's Sr. Sec. Public School, Meera Bagh on 1 October, 2015. Apart from our school, two other schools participated in this non - competitive presentation of plays. Gyan Mandir Public School, Naraina Vihar presented 'Ek Tha Gadha, Urf Aladad Khan', Bal Bharti Public School, Dwarka presented 'Andher Nagri Chaupat Raja' and our school presented 'All the World's a Stage - Jahapanah'. The school's play has been selected to be shown at the Grand Finale to be held on 14 October, 2015 at Kamani Auditorium.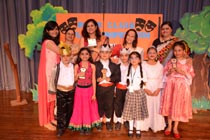 The students of Class III of St. Mark's Sr. Sec. Public School, Meera Bagh had presented English Plays like 'A Note from School', 'Rice Cakes' and 'Alice in Wonderland', etc. on 11 September, 2015.



'Tangled Up Feet' presented by Class III C won the award for the Best Play

.

The Runner's Up Trophy was shared by III A and III F for their plays 'The Small Wonder' and 'Fairy Godmother's Assistant'.

The winners were :

Best Actor (Male) – Parv Choudhary (III D), Syan Kapoor (III C), Agumvir Singh Virdi (III C).
Best Actor (Female) – Shreya Salhotra (III A), Aashvi Ahlawat (III A), Nikita (III F), Ojasvini (III F), Nishita Behl (III D) and Prakriti Jaiswal (III C).
Best Dialogue Delivery – Himank Berwal (III A), Harman Singh Bhalla (III E), Tanish Khattar (III F) and Mayank Aneja (III C).
Best Stage Presence – Saksham Kapoor (III A), Nirvan Dhingra (III A), Raunak Verma (III E) and Ridhima Mittal (III E).
Special Prizes – Mehak Dhall (III B), Gauhar Wason (III B), Harsh Malhotra (III G), Mahak Kadyan (III C) and Ritika Gupta (III C).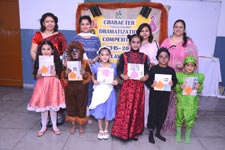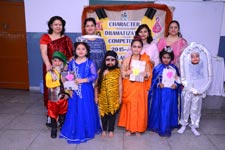 On September 1, 2015, students of Class II of St. Mark's Sr. Sec. Public School, Meera Bagh participated in Character Dramatization Competition. The tiny tots dressed up in beautiful costumes portrayed characters from English stories and fairy tales. Their enactment and make - up was appreciated by the judges.

The following students won prizes :-

I Prize - Kirandeep Kaur and Jania Marwah (II F), II Prize - Arnav Pahuja and Tanisha Malik (II A), III Prize - Navya M. Warrier and Darshbir Singh (II E) and Consolation Prize was won by Ananya Kapoor and Devansh Gogna (II C), Bhuvi Bathla and Samiya Sabnani (II F) and Muskan and Harnoor Kaur Matharu (II E) and Special Prize was won by Sukhman Singh and Pratham Saluja (II A), Ranveer Handa and Viraj Tanwar (II C) and Tushar Yadav and Marilyn Judith Lazarus (II B).



The winning characters were Angulimaal and Lord Buddha, Rumpelstiltskin and Miller's daughter and Queen and her magical mirror

.
St. Mark's Sr. Sec. Public School, Meera Bagh, celebrated 'Street Theatre Day' on 5 February 2014, in which 3 street plays were presented for the students of Classes VIII and IX. The plays presented were "Jhukna to maine seekha hi nahi" by PGDAV College, "Chidia ki kahani" by GGS College of Commerce and 'Maa tumse naa ho payega" by GTBIT. This was a part of "Act Fest" organized by the Atelier group to mark their 10th anniversary celebrations.
Students of St. Mark's Sr. Sec. Public School, Meera Bagh, participated in the National Finals of the Inter School Drama Festival 2013-14, organized by the British Council. They presented a play "Mixed up love" based on the art of disguise, as a tribute to the world's greatest play writer William Shakespeare. Sanjana Chaudhary (X-B) was adjudged the Best Actress. She received the cash prize of Rs. 10,000/- and also gets to attend a theater workshop in the Manchester Metropolitan University, U.K.

The acting team consisted of Dev Soni (X-D), Suasha Girdhar (X-D), Aman Gupta (X-A), Sanjana Chaudhary (X-B), Shivangi Arora (XI-E), Chestha Kamran (XI-C) and Aayushi Arora (X-F).

Eighteen students of St. Mark's Senior Secondary Public School, Meera Bagh staged an adaptation of the famous Broadway comedy "The Man Who Came to Dinner" authored by Kaufman and Hart during the Grand Finale of BACHPAN2013 - A Children's Theatre Festival organized by Atelier Expressions on May 20, at Kamani Auditorium, New Delhi.

After a qualifying around among 500 schools, around 30 performances made it to the semifinals at 7 venues after which Dev Soni (X), Mohit Babbar (XI), Raghav Aggarwal (XI), Sanjana Choudhary (X), Manushi Arora (X), Suasha Girdhar (X), Palak Hajela (XI), Shantav Jatav (XI), Tajinder Aneja (XI), Kartika Kumar (X), Aditya Singh (XI), Arnit Manchanda (X), Tejasva Kalra (X), Kashish Arora (X), Maghav Goyal (XI), Akhil Bajaj (XI), Harshita Shokeen (XI), and Gaurav Kalra (XI) of St. Mark's Meera Bagh made it to the top along with four other plays. The grand, gala event was attended by the parents of the participants and theatre enthusiasts in large numbers. The aspiring actors stole the heart of one and all with their comic timing, confidence, clarity and sterling performance. The play was produced under the direct supervision of the principal Ms. A. Aggarwal. Script adaptation and direction was by Ms. L. Srinivas.

For more Snaps, visit Photo Gallery . . .
A team of eight students of St. Mark's Sr. Sec. Public School, Meera Bagh, participated in the finals of Annual Inter School Drama Festival organized by the British Council on 2 December 2012 in Kolkata. Out of 188 schools which participated in the preliminary round and 45 in the semifinals, 8 schools from all over India participated in the finals. Prior to the finals the students attended a theatre workshop which was conducted by the theatre experts from the Manchester Metropolitan University, England.
Shakespeare Week, Bachpan, Inter Class Drama Festival, Inter School Drama Competition -Theatre is our forte….



We hold theatre workshops for our students and teachers teaching everyone the nuances of theatre for we believe that theatre is the most powerful form of teaching. Our young Theatre Brigade made us proud by winning the Semi-Finals of the ANNUAL INTER-SCHOOL DRAMA FESTIVAL 2012, presented by the British Council and Kolkata Metropolitan Development Authority, in association with Manchester Metropolitan University.We are all set to perform in Kolkata in the finals of the Festival.

It is no mean achievement for us as we were one of the 42 schools selected from over 180 schools from all over India to enact a self scripted play on the theme - "India – UK : A Modern Fairytale". We now are one among the eight finalists selected to perform in the finals at Kolkata.
The students of Classes VI and VII of St. Mark's Sr. Sec. Public School, Meera Bagh, watched a Hindi Play 'Adal Badal' presented by the National School of Drama on 10 April 2012. It was a hilarious play which was enjoyed by all. The dialogue delivery, costumes and sound effects made a great impact on the audience. Overall it was an enjoyable and a great learning experience for all.
On the happy occasion of Foundation day of St. Mark's Sr. Sec.Public School, Meera Bagh, the school gifted the students of classes VIII to XI, a gift of true knowledge. The famed 'Asmita' Theatre group performed a play 'Inter Faith', and conducted a 'Personality Development' workshop for them. The play focused on helping students change their mindset towards unfair discrimination and also helped students realize their goal in life.
An Inter Class Play Competition was held on 28 July 2011 at St. Mark's Sr. Sec. Public School, Meera Bagh. The budding actors from classes VI & VIII presented seven theatrical productions. The competition was judged by Ms. Garima Arya, a theatre enthusiast and an excellent actor herself and Ms. Isha, Senior English Teacher.

The students of class VI presented extracts from classics like 'Wizard of Oz' and 'Oliver Twist'. They also tried their hands in modern plays like 'The Blades' and 'Many Moons'. The class VIII students came up with 'The Secret Garden', 'The Unexpected' and 'A Dollar'.

'The Wizard of Oz' (class VI) and 'The Secret Garden' (Class VIII) won the Best Play Awards.

Individual Awards were won by :

Class VI
Class VIII
Best Actor (Male)
Kanishq Arora (VIB), Dhanukh Bhatnagar (VIG), Sushant Goyal (VIE)
Best Actor (Male)
Guneet Dhiman (VIIIA), Aman Khatri (VIIIB)
Best Actor (Female)
Rashi Mehan (VIA), Yukti Rawal (VID), Chinmayee Verma (VIF)
Best Actor (Female)
Sanjana Choudhary (VIIIA)
Best Stage Presence
Aman Goel (VIA)
Best Stage Presence
Suasha Girdhar (VIIID), Aishwarya Garg (VIIIC), Mansi Topa (VIIIF)
Best Dialogue Delivery
Mansi Marwah (VIC)
Best Dialogue Delivery
Ayushi Arora (VIIID)
The parents of the participants were invited to watch this spectacular show of talent. The judges and the audience were enthralled by the performance and appreciated the hard work.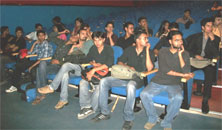 UNSUNI' a dramatized version of Harish Mander's 'UNHEARD VOICES', directed by Mr. Arvind Gaur an eminent theatre personality and founder of Asmita Theatre Group, was staged exclusively for the students of St. Mark's Senior Secondary Public School, Meera Bagh at SMGS auditorium on May 2, 2011.

The play placed before the students certain harsh realities of life which one hears, yet fails to listen.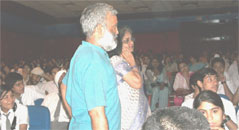 Social issues related to street children, lepers, night soil carriers, and exploited tribal landowners, were addressed in 'UNSUNI". The play was internalized effectively by the receptive audience which was evident in the questions put forth by them to Mr. Gaur.

The event concluded with an informative and instructive interaction of the SPOTLIGHT DRAMA SOCIETY with the director which lasted for an hour. Mr. Gaur was impressed with the students' awareness about the intricacies and nuances of theatre. The play was attended by Mrs. A. Aggarwal , Principal and Mrs. V. Wahi, Vice Principal, of the host school. Mrs. S. Shergill Vice- Principal, St Mark's Girl's School graced the occasion with her presence.
It was a jubilant moment for the 18 actors of FANNY's FIRST PLAY by George Bernard Shaw, staged by St. Mark's Senior Secondary Public School, Meera Bagh at Kamani Auditorium , the venue for the Grand Finale of

BACHPAN-2011

, An Inter – School CHILDREN'S THEATRE FESTIVAL hosted by ATELIERS Theatre group on April 27, 2011. The play was among the TOP 6 chosen for the mega event, after clearing a preliminary and zonal round comprising of 50 plays in all.
The proud participants were -
Sanya Arora, Ravit Malik, Kanishk Bharadwaj, Lakshay Virmani, Danish Girdhar, Raghav Aggarwal, Harshit Khanna, Siddharth Sheoran, Shourya Vats, Samarpit Kalra, Ria Nagpal, Shubhankar Jain, Tanvi, Nikita Sethi, Nimrit Ahluwalia, Taniya Arora, Shibika Suresh and Tanya Singh.

Dignitaries like Mr. Kuljeet Singh, an eminent Theatre personality, the Founder of Atelier Theatre Group, Principal Ms. Anjali Aggarwal and Vice Principal Ms. Veena Wahi graced the occasion with their presence.

The cast and crew of Fanny's First Play stood out with their brilliant display of acting skills.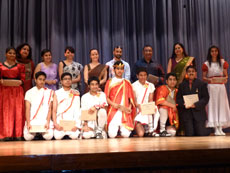 The students of St. Mark's Sr. Sec. Public School, Meera Bagh, celebrated the birth of the 'Bard of Avon' by dedicating two days of activities to his life and works. It began on 20 April 2011, with the 'Shakespeare Comes Alive' competition which was all about remembering the immortal creations of Shakespeare through dramatization. Amongst the six presentations, which included 'The Merchant of Venice', 'Romeo and Juliet', 'The Tempest', 'The Taming of the Shrew', 'Julius Caesar' and 'Macbeth', 'Julius Caesar' was acknowledged for the Best Group Effort.

It was followed by Shakespearean 'Speeches and Monologues', delivered in authentic Shakespearean Language by the students of class XII. There were some powerful speeches of Mark Antony, Brutus, Iago, that stood out. The winners of the event were Meghna Kumar (XII G) – I prize, Tanya Mehta (XIID) – II Prize and Shikha Safaya (XIIE) – III prize.


On the second day, 21 April 2011, there was a Quiz for class XI students on Shakespeare's Life and Works. The students made the best of this by learning and gaining knowledge about the Bard. The winners were : Shivani Gupta & Jasneet Kaur (XIC) – I prize and Prayanshu Sharma & Nitin Taneja (XIF) – II prize.

Class VIII students also got a chance to learn more about Shakespeare though an activity called 'Kathasagar', where they narrated the story of Shakespearean plays in the Indian context. The activities, were a great way of learning more about Shakespeare and it was an Ode to the Bard, the father of English Literature.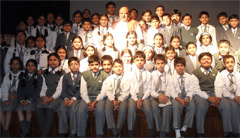 It was a moment of immense joy and excitement for the students of St. Mark's Sr. Sec. Public School, Meera Bagh, Janak Puri and St. Mark's Girls School, as they got an opportunity to meet and interact with a noted theatre and film personality, Mr. Saurabh Shukla, under the Atelier Kids Program. The students were keen to know about his journey in the field of dramatics and films and he answered to all their queries patiently. He told the students how he started his career with writing and then moving on to acting in plays.

Saurabh also emphasized upon the importance of education in the field of dramatics as he said that it is important to be aware of subjects like literature, history and sciences, that help in creating awareness, which further becomes a platform for performance of any kind. It was lovely to see a celebrity of his stature interacting so freely with the students, who seemed to be in awe of him by the time the session ended. It was indeed a great experience that left everyone asking for more.
Character Dramatization Competition for class I was held in St. Mark's Sr. Sec. Public School, Meera Bagh on 28 September 2010 in the Bharatnatyam room. The judges were Ms. Tanuja Kant and Ms. Purnima Arora. The occasion was also graced by our Vice Principal Ms. Veena Wahi and Primary Supervisor Ms. Anita Gupta. The participants were dressed up in various story book characters. The judges appreciated the effort and hard work of teachers and students. They really enjoyed the programme.

The winners of this competition weree :


| | |
| --- | --- |
| I Prize | Divyanshi Thakkar and Aparna Kalra for Gretel and Witch |
| II Prize | Jatin Sachdeva and Dishita Goel for Rumpelstiltskin |
| III Prize | Hardik Nayyar and Ashmeet Kaur for Gnome and Farmer |
| I Consolation Prize | Kritika and Antariksh Goel for Ginger Bread Man and the Fox |
| II Consolation Prize | Yajat Dayal and Vishal Nanda for Tom Sawyer and Ben Rogers |
| III Consolation Prize | Lakshay Mahajan and Divyam Kapoor for Angulimal and Buddha |
| IV Consolation Prize | Garvit Nagpal and Animesh Pundir for Teneliraman and King Krishna Devaraya |
St. Mark's strongly believes that personality development is a tool through which one brings out the capabilities and strengths of the learners so that they become more confident to face the outside world and theatre helps in grooming personality. To achieve the same Inter Class English Play Competitions for classes III , IV and V were held from 16 September 2010 to 18 September 2010.

The plays were adjudged on the basis of acting, stage presence, dialogue delivery and the costumes. The competition was a good exposure for the students which added a new dimension to their learning. In class III.

Best Group Effort went to the play 'Tarry Diddle Town' and other plays were also appreciated.

In class IV, Best Group Effort went to the play – 'Who Died First'.

Special mention was made for the play 'The Bishop's Candlesticks'.

In class V , Best Group Effort went to the play 'Mahabharata'.

Various other prizes were given for Best Acting (Male, Female) , Best Stage Presence, Best Dialogue Delivery, etc.

The winners were :


Class III
Class IV
Class V
Best Actor - Male
Kartik Jain (III G)
Sanskar Gupta (III F)
Lakshaya Saluja (III C)


------------------------------


Best Actor – Female
Vishruti Priyanshi (III A)
Charanjot Kaur (III E)
Soumya Garg (III G)


------------------------------


Best Dialogue Delivery
Nitigya Dutt Choudhary (III E)
Raiml Arora (III E)
Nischay Vij (III C)


------------------------------


Best Stage Presence
Abhitav Gupta (III F)
Supriya Arora (III C)
Pratham Jain (III G)


------------------------------


Special Prizes
Ishita Saxena (III A)
Vanshika Pujani (III A)
Khushi Jain (III D)
Sanah (III C)
Harshit Choudhary (III B)
Best Actor - Male
Manas Mehta (IV C)
Kartik Luthra (IV F)
Achhyut Jolly (IV B)


----------------------------


Best Actor – Female
Nikita Arora (IV F)
Jasmine (IV F)
Ria (IV B)


----------------------------


Best Dialogue Delivery
Tanishq Juneja (IV C)
Parth Sharma (IV C)


----------------------------


Best Stage Presence
Yash Kapoor (IV B)
Sambhav Kumar (IV D)
Yukta Anand (IV B)


----------------------------


Special Prizes
Raghav Bansal (IV F)
Yashmita (IV F)
Nishtha Vashishth (IV A)
Vansh Hans (IV D)
Rashmeet Kaur (IV E)
Sakshima Girotra (IV E)
Geetika Jhanji (IV E)
Siddharth Malhotra (IV G)
Geetansh (IV G)
Mehak Bansal (IV F)
Best Actor - Male
Siddhant Sharma (V C)
Sanchit Nanda (V F)
Devansh Gulati (V D)


------------------------------


Best Actor – Female
Kulpreet Kaur (V F)
Manvi Mudgil (V C)
Rashi Mehan (V A)


------------------------------


Best Dialogue Delivery
Ridhi Gupta (V F)
Mansi Marwah (V D)
Dhanukh Bhatnagar (V E)


------------------------------


Best Stage Presence
Anurag Rawat (V F)
Shivam Makol (V D)
Sabyasachi Chand (V F)


------------------------------


Special Prizes
Chhavi Wadhera (V C)
Mansi Marwah (V D)
Twinkle Makol (V D)
Bulbul Mehta (V D)
Shreya Nahar (V D)
Disha Gulati (V D)
Khushboo Dhull (V D)
Deepanshi Spall (V D)
Chinmayee Verma (V C)
Hitanshi Narang (V C)
Stuti Pandey (V F)
Akshit Kedia (V F)
Karan Arora (V E)
The 'Character Dramatization' competition was held on 7 September 2010 in St. Mark's Sr. Sec. Public School, Meera Bagh. The competition began by giving a brief knowledge about 'Character Dramatization'. There were 27 entries in all, 3 from each section of Class II. Well known stories like 'Cinderella', 'Red Riding Hood', 'Mermaid', 'Fish and the Fisherman', 'The Emperor and the Weaver' and many more stories were enacted and the characters from these stories from these stories were brought out beautifully. Students worked really hard to put life into their character. The costumes were appropriate and the dialogues were well learnt.

Our school Principal Ms. Anjali Aggarwal briefed the students about Character Dramatisation and told them how they can make their performances better by feeling the character they are playing and putting life into it. The judges Ms. Rashmi Chopra and Ms. Vani Lala appreciated the efforts of the students and enjoyed their performances thoroughly.

The winners were as follows :


I Prize
Kashvi Ahlawat (Red Riding Hood) , Mehak Bhutani (Wolf) [II H]
II Prize
Harjas Kaur Matta (Cinderella) and Janvi Batra (Step – Mother) [II C]
Siddharth Suri (Fisherman) and Dhruv Bansal (Fish) [II D]
III Prize
Hardik Nayyar and Ashmeet Kaur for Gnome and Farmer
Consolation Prize
Sarthak Sahni (Weaver) and Vaibhav Kapoor (Emperor) [II B]
Special Prize for Character
Poorva Narang (Sea Witch) [II I]
Special Prize
Samiksha Kumar (Goat 1) and Muskan Gupta (Goat 2) [II H]
Our school strongly believes in J. F. Kenedy's words that 'All of us do not have equal talent, but all of us should have an equal opportunity to develop our talent.' To develop in our students a talent and passion for theatre an English Play Competition for classes VI and VIII and Hindi Play Competition for class VII was held on 27 August 2010.

It was a wonderful experience for the students who participated as well as the audience who witnessed the various plays. Some of the plays were Oscar Wilde's 'The Model Millionaire', Lousia May Alcott's 'Little Women', Charles Dickens 'A Christmas Carol' and O Henry's 'The Ransom of Red Chief'. The Hindi plays comprised of Munshi Premchand's 'Thakur Ka Kuan', 'Adhikar Ka Rakshak' and 'Nawab Sahab Ka Vivah'.


The winners were :


CLASS VI
Best Actor
Saksham Bhagat (VI E)
Best Actress
Ria Nagpal (VI B)
Best Stage Presence
Shreya Minocha (VI B)
Special Prizes
Ria Gupta (VI C)
Ruchira Madan (VI F)
Shivangi (VI B)
Shikhar Suresh (VI C)
Lakohat Jindal (VI A)
CLASS VII
Best Actor
Ishaan Arora (VII A)
Best Actress
Mariyam Khan (VII F)
Best Stage Presence
Shantanu Chatterjee (VII F)
Special Prizes
Parekh Bajaj (VII C)
Aishwarya Garg (VII D)
Deepanshi Makkar (VII B)
Sahib Jaggi (VII F)
Shelly (VII G)
Kashish Bansal (VII B)
CLASS VIII
Best Actress
Palak Arora (VIII F)
Best Dialogue Delivery
Raghav Aggarwal (VIII A)
Special Prizes
Sarthak Saxena (VIII A)
Shivangi Arora (VIII A)
Shantav Jatav (VIII D)
Gaurav Kalra (VIII B)
Chirag Chawla (VIII B)
St. Mark's Sr. Sec. Public School, Meera Bagh, has always given a platform to its students to blossom their talents. One such platform was recently laid down for the students of classes X and XII for showing their theatre skills during the Inter Class Play Competition on 16 August 2010. An English Play Competition was organized for these classes whereby the students mesmerized the audiences by their wonderful performances. They felt highly elated to have distinguished judges - Mr. Bijoy Goswami (Consultant HT), Mr. Siddharth Bhatia (Theatre Personality) and Ms. Sheena (Principal, St. Mark's Girls School, Meera Bagh) to witness the students' excellence.

The awards were given in the following categories :

Class X - Best Boy : "A Villa for Sale" by Sacha Guitry.
Class XII - Best Play : "The Man in the Bowler's Hat" by A. A. Milve.

Both the Plays sent ripples of amazement and laughter amongst the audience. The awards for the other categories were as follows :

Best Actor
Class X : Subhankar Jain (X B)
Class XII : Simran Singh Sandhu (XII G)


--------------------------------


Best Actress
Class X - Tanvi (X G)
Class XII - Sakshi (XII E) & Karshni Kharbanda (XII A)


--------------------------------


Best Dialogue Delivery
Class X - Akshay Girotra (X A)
Class XII - Sonal Sharma (XII F) & Siddarth Kejriwal (XII C)


--------------------------------


Best Stage Presence
Class X - Dishpreet Kaur (X A)
Class XII - Kritika Nasa (XII G)

The other plays which appealed to the audience were -
'A Pair of Spectacles' by Sydney Grundy & 'Fanny's First Play' by G. B. Shaw from Class X.

Class XII performed wonderfully well in the plays -
'Lady Windermere's Fan' by Oscar Wilde, 'Where There is a will' by Mahesh Dattani & 'The Dear Departed' by Stanley Houghton.

Overall an outstanding performance by all the classes.