St. Mark's Sr. Sec. Public School


MEERA BAGH, NEW DELHI - 87
Magical Moments – The Annual Function of Classes I and II of St. Mark's Sr. Sec. Public School, Meera Bagh was organized on 22 February, 2018. Mr. Manoj Tiwari, a well known politician, singer and actor, was the Hon'ble Chief Guest. Among other dignitaries present were our school Director, Mr. R. Aggarwal, Principal Ms. A. Aggarwal, Vice Principals Ms. A. Gupta and Ms. R. Anand. The programme commenced with a rocking musical presentation by the choir group, who presented mellifluous songs. It was followed by the musical plays – '

Snow White and Seven Dwarfs

', '

Cinderella

' and '

Alice in Wonderland

'. The confidence and the enactment of the little ones held the audience in awe. The show culminated with electrifying and scintillating dance presentations. The Chief Guest, Mr. Manoj Tiwari addressed the gathering and congratulated the children for their stupendous performance. The students who contributed generously for SOS Children's Villages of India were also awarded and applauded for their noble act.
The members of the Earth Savious Eco Club of St. Mark's Sr. Sec. Public School, Meera Bagh had a workshop on making organic holi colours using refined flour, food colours, chandan powder and other natural things on 20 February, 2018. The colours made were bright, fragrant, non toxic and skin friendly.

The staff members too celebrated this festival with a lot of excitement and enthusiasm. Principal Ms. A. Aggarwal gave best wishes to the staff members and conveyed the message to play safe Holi with natural colours and avoid wastage of water. Thereafter the teachers played Holi with flower petals, natural colours and savoured the traditional eats on this occasion.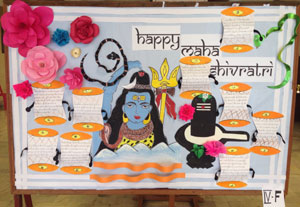 The students of class IV of St. Mark's Sr. Sec. Public School, Meera Bagh celebrated Maha Shivratri in its true spirit and festivity on 13 February, 2018.

A board on 'Maha Shivratri' was prepared and displayed by the students of class IV-F.

They were shown a power point presentation which helped the students learn more about the festival. It was a good learning experience for the students.
69th Republic Day was celebrated with a lot of enthusiasm and grandeur by the students of classes VI to VIII of St. Mark's Sr. Sec. Public School, Meera Bagh. They presented a musical play - The Mahabharata on 25 January 2018, which comprised of various episodes from the Mahabharata and spectacular dance performances. It teaches us the traditions and values which are still relevant today, after ages.
On account of Basant Panchmi Celebration an Art Competition was held for Classes I and II in St. Mark's Sr. Sec. Public School, Meera Bagh in the midst of the nature.Children drew beautiful flowers and colourful butterflies to mark the beginning of spring season.



The winners were :

Class I -

I Prize - Dakshita (I A), Yash Aaryan Mohan (I B), Kanishka (I C), Aaditya Sharma (I D), Tavleen Kaur (I E), Anshika Jain (I F), Paree Ranjan (I G), Naveen Kumar (II A), Bani Kaur (II B), Chaitanya Sareen (II C), Guru Anand (II D), Vanya Jakhar (II E), Ishmeet Kakkar (II F) and Shubham Gupta (II G).

II Prize - Charvi Pant (I A), Adyanshi Dalmia (I B), Eshanika (I C), Aadya Sethi (I D), Arshlaan (I E), Lakshita Arora (I F), Yuvraj Pathak (I G), Jahanvi Jain (II A), Avni Sharma (II B), Sia Sehgal (II C), Anirudh Tyagi (II D), Aneesha Ahuja (II E), Abhinoor Sethi (II F) and Vansh Chaudhary (II G).

A puja was held to worship goddess Saraswati, the goddess of knowledge and wisdom.
CLICK HERE TO VIEW THE CELEBRATIONS OF PREVIOUS YEARS