GO BACK
"Take a leap of faith and begin this wondrous new year by believing. Believe in yourself. And believe that there is a loving source – a Sower of Dreams – just waiting to be asked to help you make your dreams come true." — Sarah Ban Breathnach

.

To mark the annual celebration for the year 2021, our school welcomes the arrival of the New Year with great passion and enthusiasm. All the little munchkins of class Seedling celebrated various activities. Cultural programs and making new resolutions for the coming year were some of the activities. The celebration was enjoyed much by everyone.

Wishing you all a very happy and prosperous New Year.
Rhyme Recitation is very important for children as it is a beautiful and effective way which facilitates them to express. An inter class rhyme recitation competition was held for the students of Class Seedling on 20th December 2021.

We present to you the winners of the competition.

Kritvi (Seedling D) : First
Harnoor Kaur (Seedling C) : Second
Saiaanshi Rao (Seedling D) : Third

Vaniaa Arora (Seedling B) : Special Prize
Ankrit Kaur (Seedling B) : Special Prize
Abaani Kasur (Seedling D) : Special Prize
SPIC MACAY, the Society for the Promotion of Indian Classical Music And Culture Amongst Youth is a voluntary youth movement which promotes intangible aspects of Indian cultural heritage by promoting Indian classical music, classical dance, folk music, yoga, meditation, crafts and other aspects of Indian culture. As a part of the Rendezvous series, SPIC MACAY organised the screening of "Its a wonderful life", a film directed by Frank Capra, for Class VIII students.

The screening of the film was followed by an interaction and discussion with Professor Gayatri Chatterjee, a film teacher and writer. It was an informative session for the students where they had an exposure to the finer aspects of cinema.
A writer is someone who can make a riddle out of an answer.



Students of Class 3 participated in the activity 'Time For Riddles'. This activity was conducted to give an opportunity to the little learners to think, learn and prepare themselves for today and tomorrow. It encouraged problem-solving and critical thinking, which are the key skills one should master in today's world. It was designed to make the students think out of the box and create something new. Each and every child was given a chance to present the riddles, thereby igniting the minds and curiosity of the audience. The students came up with many different types of brain teasers and enigmas to put up. They enjoyed the activity thoroughly.

Great speeches truly transcend time and place, offering wisdom that speaks to every era. Many great leaders and people with vision have given speeches that have made their way into the history books. Their ideologies, efforts and movements have led to life-changing situations and thus, we hold their work dear to us.

So, the students of Class 8 set out to track down some of those special speeches in the Intra Class Speech Competition held on 22 November 2021. Speeches of Dr. A.P.J. Abdul Kalam, Pt. Jawaharlal Nehru, Dr. Kiran Bedi, Michelle Obama, Swami Vivekananda and many more were beautifully presented by the contestants and these speeches enlightened the audience. Kumud Vats, Arushi and Harshal Sidhu of Class 8-B bagged the first, second and third position respectively.

"

Storytelling is the most powerful way to put ideas into the world

." Since time immemorial, storytelling has been an integral part of our childhood. Stories give wings to our imagination and take us to places beyond the boundaries of our physical world. Students of class Sapling participated in virtual Story Narration Competition, with great enthusiasm and won everyone's heart. We congratulate the winners for their exceptional performances.
Stories always give wings to our imagination and take us to places beyond the boundaries of physical world. As competitions are always the best way to boost the confidence in children, a story narration competition was conducted for the tiny tots of Sapling in which children narrated stories like 'Four friends', 'The ugly Tree', 'The Elephant baby', etc. The little story narrators of SMGS presented their stories by using various props like hand puppets etc.

The oratory and presentation skills of our munchkins were outstanding

.
Our little munchkins of Class Seedling displayed their talent in Fancy Dress Competition.

The main aim to conduct these competitions is to blend learning with fun and also to develop confidence in the students by providing them an opportunity to speak in front of an audience. Children spoke confidently on the selected characters and also used handmade props along with backdrops. Judges and audience were captivated by the performances and also admired their hard work.

The winners of the competition are -

First position - Prisha Kansal
Second position - Naaisha Malhotra
Third position - Saanvi Sahu
First consolation - Miraya Mehra
Second consolation - Aavya Tiwari
Third consolation - Avishi Tolia
National Animal Safety and Protection month was created by the Pediatric Advanced Life Support Foundation. The month of October is dedicated to creating awareness for all animal lovers about various ways by which they can find ways of keeping their domesticated and pet animals safe from accidents. The protection of animals is vital for maintaining a healthy balance in our ecosystem as animals are an integral part of it. The Ashrey Welfare Club promotes the ways by which children can be sensitized towards animals' wellbeing. Keeping this thought in mind, the students of Class 3 performed an activity to celebrate this occasion wherein they built beautiful birdhouses. The activity aimed at developing a compassionate and empathetic attitude towards animals. It also provided them with an opportunity to showcase their creative skills.
"

Saving one animal won't change the world, but it will change the world for that animal

".

Keeping this thought in mind, the tiny tots of Class 1 and 2 celebrated National Animal Safety And Protection Day by making creative wall hangings with different slogans written on them. This activity organised by Animal Welfare Club - Aashrey made them aware that animals play an essential role in our daily lives, so it's vital to ensure they are treated with care and respect they deserve.
Goodbyes are the toughest; more so when you haven't said them in person

. On 5 October, 2021 SMGS bid its hardest goodbye to Ms. Jasjit Mehta who nurtured the St. Mark's family like her own. Her smile and friendly greeting has given many students the courage to continue on their educational journey. It was an overwhelming moment for not just Ms. Mehta, but also for the Principal, Ms. Sheena Kalenga, the Vice Principal, Ms. Sabina Shergill and all the staff members at SMGS, who shared their experiences with this woman of substance. The online event saw hearty tears of joy and sadness as happy memories were revoked and her journey at St. Mark's was recalled.

May her new beginning be filled with happy memories of the years she spent contributing to the success of SMGS.
"Play is the highest form of research" - Albert Einstein.



With a bit of ingenuity, the little ones of Class Seedling had a blast by playing a hopscotch game. It helped the children master their body control, rhythm, build body strength, learn balancing, eye/hand coordination, recognition of numbers, and more. It was a wonderful experience for our munchkins and they enjoyed it a lot!
"The only source of knowledge is experience" - Albert Einstein.

In an attempt to explore and learn, students of our school participated in a Student Teacher Exchange Programme with Barnes School and Junior College where Delhi met Nashik. This exchange programme "DELNAS" symbolised the two palms of the hands where Delhi and Nashik join together for an interactive learning experience.

The programme comprised of the two groups of Class 7 and 8 where the students will work on the topics Medicinal Plants Grown at Home and Our School Your School respectively. The students from both the schools actively participated in the very first interaction session where they gave their self introduction and discussed the various points for conducting these activities in the coming months.

Overall it was a wonderful learning experience for the students.
"

Acting requires faith, you just have to believe that you are the person you 'replaying and that what is happening is happening to you

."

Great dramas happen to those who can enact them and all humans are actors with their own point of view. We see all of us as artists with the right to create our own act. The art of enacting came alive during the virtual Character Dramatisation competition organised by St. Mark's Girls Sr Sec School for Class 2.

The acts we usually see or get to know from the books came real in front of us.

The little artists mesmerised everyone with their spectacular costumes and mighty performances. We present before you the winners of the competition.

The role of a writer is not to say what we all can say but what we are unable to say.

One such effort was made by Class XI students as they took part in the activity christened as 'WIKI CRITIQUES' wherein they made beautiful presentations on different authors and critically appreciated their works. The main idea was to encourage andinvolve them in research work and cultivate in them love for literary works of famous writers. This endeavour made by the students was a great learning experience for all.
A wise man once said, "

After nourishment, shelter and companionship, stories are the thing we need the most in the world

."

It's the stories that give wings to our imagination and take us to the places beyond the boundaries of our physical world and into the land of fairies, dragons and wishing trees. Since time immemorial, storytelling has been an integral part of our childhood. To keep the tradition going and to insight curiosity and the love for reading an Online Story Narration Competition was held on 8 September 2021 for the students of Class 1. The young enthusiastic to retailers armed with their props came forth with wonderful tales. While some stories gave the audience food for thought, others reinforced moral values. The event was thoroughly enjoyed by everyone.



The little storytellers won everyone's heart

.

Shriya Gupta of Class XII gives us all the reason to smile as she makes us proud by securing the First Runner Up Position in For the Motion Category at the IDEOLOGUE - 5th Annual Inter School English Debate Competition organised by St. Mark's Sr. Sec. Public School, Janakpuri. The event provided the students with a freedom of expression, healthy dissent and divergence of views in the midst of this global pandemic thus helping the young critiquing minds to nurture their rational thinking and hone their public speaking skills.
"

Poetry is simply the most beautiful, impressive and widely effective mode of saying things

."

Beauty is the realm of poetry, the students of Class 3 enthusiastically participated in the Inter Class Poetry Recitation Competition, as they got an opportunity to exhibit their talent and confidence. The judges appreciated and applauded the performances of the participants. Everyone was delighted after seeing their pleasing performances.
Poetry is when an emotion has found its thought, and thought has found words, and when words were recited by our fledglings of Class III, the audience and judges were spellbound. All the participants presented soulful renditions of poems on varied themes. The judges had a tough time choosing the winners. We congratulate the winners for their laudable performances.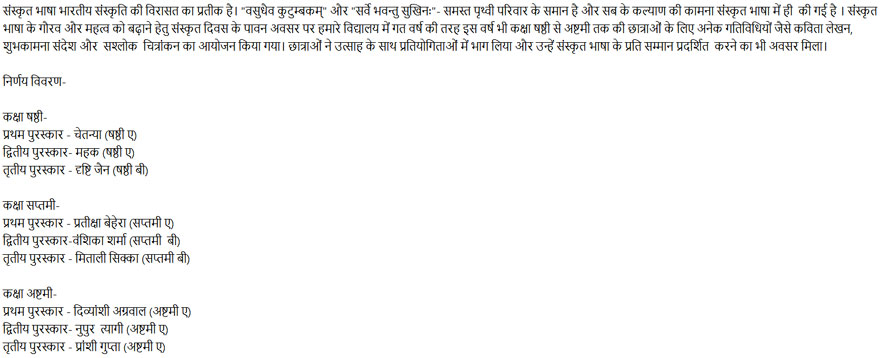 Dance is the hidden language of the soul - Martha Graham.

The Society for the Promotion of Indian Classical Music and Culture Amongst Youth - SPIC MACAY organized a Sattriya Nritya performance by renowned dancer Dr. Anwesa Mahanta on 21 August 2021. Sattriya Nritya is a dance - drama performance art with origins in the Lord Krishna - centred Vaishnavism monasteries of Assam.

In order to inculcate love for this form of dance, students and teachers of St. Mark's Girls Sr. Sec. School viewed the online live performance and appreciated the essence of this art expression. It can be said that nothing else can effectively give outward form to an inner experience than dance.
Khaitan MUN 3.0 Global Thinkers Conclave provided opportunities to practice: research, public speaking, teamwork, negotiation, and writing skills in a safe and structured environment. In order to work, the debate required different people to fill different roles. The event offered a great learning experience.

Students from St. Mark's Girls' School performed their very best and won the following positions.

Prachi Jain (XI-D) - High Commendation in the committee Future of Gaming Industry in Virtual Societies.
Kanishka Jha (XI-A) - Honorable mention in the committee Question of Democratic Federalism and Regional Autonomy.
Suhani Juneja (IX-B) - Special mention in the committee Nation and Well-Being.
It is only human to seek continuous inspiration and motivation to propel us forward and in times like these listening to speakers who inform and inspire, surprise and delight can be a real joyride.

Ted Talks by presenters who run the world's most admired companies and design its best-loved products; who invent world-changing devices and create ground-breaking media, by emerging artists, scientists and thinkers can be our daily dose to positive affirmations.

We engaged our students from Class X in an activity wherein budding speakers presented an abridged version of Ted Talk by eminent women who are excelling in their chosen field. The students enthralled everyone with their confidence and exemplary performance.
While recounting the trauma of Partition of India 1947, poets and writers have described partition - as a 'division of hearts'.

The partition was not merely a division of properties, liabilities and assets, or a political division of the country and the administrative apparatus. Above all, it was a violent separation of communities who had hitherto lived together as neighbors. In memory of the struggles and sacrifices of people, 14 August was today declared as 'PARTITION HORROR REMEMBERANCE DAY' by PM Narendra Modi. To acknowledge the pain undergone by people on both sides due to Partition of India in 1947, students of Class XII shared personal stories where they presented old pictures of their great grandparents who helped people to safely migrate from India and also some of them turned their home into refugee camps at the time of partition. Students also shared some cases studies and facts on partition. After hearing the stories and going through case studies, students understood that; everyone's pain was same and therefore we as citizens of India need to strengthen the spirit of oneness and remove the poison of social divisions.


Mathematics is not about numbers, equations, computations, or algorithms: it is about understanding. Budding minds need room for an interactive form of testing which questions their knowledge and broadens their horizons.

Quizzes teach interpersonal skills, strategies and the players learn to work as a team. An Inter-class Maths Quiz was conducted for the students of Class III, wherein the young enthusiasts of all the four teams exhibited exuberance as they battled for the prize. The activity was a highly enriching and enjoyable experience for the participants.
Someone has rightly said, "

Acting gives you a story to tell, a reason to cry and lets you for once be someone other than yourself

."

The tiny tots of Class 2, dressed up in beautiful costumes, portrayed characters from their favourite Panchtantra stories. The activity helped the children to develop a more sensitive and in depth understanding of all the characters they played and also trained them well in all spheres of acting. It was a fruitful experience for the children.
With the sudden rise in the Corona case graph, it was but the need of the hour to once again sensitise and remind the students that the war against Covid-19 is still ongoing and the precautionary measures still need to be taken. Under the campaign "Dawai Bhi Kadai Bhi" an intensive and focussed communication campaign against Covid-19 Pandemic, the students of Classes VI-XII were shown Powerpoint Presentations. These presentations made the students more aware about the steps to be taken to prevent Covid-19. This initiative was taken to amplify "Jan Andolan" organised by Delhi Government against Covid-19.

"

Adding fun to the learning creates the best educational experience possible

."

Keeping this thought in mind, a fun activity of "sink and float" was organised for the students of Class 1.

The sink or float experiment is a simple science experiment that encourages the child to make predictions and observations about buoyancy and density. Through their observations, they learnt that buoyant objects float and dense objects sink.
"

Life depends on water and water conservation depends on you

."

Water scarcity today has become a big issue which if not dealt with in time, will turn out to be a hazard. To make the students aware about the need to conserve water, an activity was organised for the students of Class 3 wherein they made beautiful drawings and paintings depicting the preservation, control and management of water resources.

The young enthusiasts actively participated in the activity. The activity helped in educating the young ones to use water efficiently so that we can save it for generations to come.
"Let the rain sing you a lullaby".

"Happiness is....making paper boats and floating them in a puddle."

Rainy day refreshes the weather with showers and a cool breeze. After all, it brings a sigh of relief for everyone. Going on a rainy day walk. Putting on the rain boots to good use and head out for a walk in the rain. ...

There is something magical about the rain puddles. Children of Class Seedling and Sapling didn't spare a moment to play with paper boats in the rainwater. They thoroughly enjoyed jumping and playing in the puddles.
The Greatest threat to our environment is the belief that someone else will save it. - Robert Swan

.

The Earth does not belong to us we belong to the Earth and we need to save the beautiful resources provided to us by nature. Keeping this in mind the students of Class V prepared beautiful posters depicting the 4R's of Waste Management. The activity was a great opportunity for the students to showcase their innovative and creative ideas. The students participated with great zeal and enthusiasm. The activity sensitised the students to understand the importance of waste management. It was a splendid session which gave a platform to all students to enhance their creativity.
Online Inter school Mock Parliament was organized by S. D. Vidya School, Ambala Cantt. on July 17th 2021.

The chief guest of the Opening ceremony was Dr. Rajinder Rana, Principal, S D College. As many as 60 aspiring participants from 13 schools from all over India took part in the mock session.

Priyanshi of Class XI-A of our school has won first prize under category of Best Look Alike and voice modulation. Main agenda was Population Regulation bill 2021. Some other topics of discussion were the rising prices of petrol etc.



The population bill regulation 2021 was successfully passed

.

The chief guest of the Closing Ceremony, IPS officer, Aditya Bansal was all praise for the enthusiasm and in - depth knowledge displayed by the students.
You will never regret the time spent blowing bubbles. To explore and experiment with colors, a fun activity - "Bubble Painting" was done by the children of class Sapling.

They enjoyed combining different colours to create bubbles.
"

The first drops of rain always bring a smile on our faces

."

'Rainy season' or 'monsoon', the beautiful season of the year, is a gift of God to mankind. It brings pleasant weather and uplifts everyone's mood.

There is no age limit to enjoy the rainy days. They give the kids a chance to step out and play, jump in the puddles, and make paper boats. The tiny tots of Class Seedling thoroughly enjoyed making frogs by using craft material.
The smallest of the mosquito has the power to infect our bodies

.

As per the circular issued by the Department of Education, Government of NCT, Delhi to spread awareness among the school students towards Prevention and Control of vector borne dieases (

Dengue, Chikungunya, Malaria

), St. Mark's Girls Sr. Sec. School organized an Awareness Campaign holding plethora of online activities for the students of Classes Seedling to XII. A PPT was shown on the above topic to the students, which was followed by an exhaustive discussion between the teachers and the students. In the discussion, the need to understand and implement the measures for prevention and control of diseases was reiterated. An array of thoughtful activities according to the age group of students were conducted to instill awareness about the serious issue of mosquito breeding.



The activities conducted were as follows :-

Pre-Primary Classes
NO Mosquito - Badge Making

Classes 1 and 2
Mosquito Busters - Monologue

Classes 3 and 4
Poster Making on - No Mosquitoes; No Diseases

Classes 5 and 6
Slogan Making on - A Mosquito Free World

Classes 7 and 8
Digital Ad Designing

Classes 9 and 10
Comic Strip Creation

Classes 11 and 12
A Self Assessment Quiz

The teachers of the school conducted the activities with a resolve to fight the menace of the World's deadliest animal and the students participated with equal enthusiasm and flair.
"Knowing yourself is the beginning of all wisdom." - Aristotle.



A special activity on self-discovery was conducted during morning assembly time for Classes VI and VII on 30 June and 2 July 2021. The class teachers in all the sections gave a prompt on self-discovery challenge to the students which was followed by a spontaneous response from the students on 30 June.

The students were then given some more time to reflect on any three things in their life that make them feel proud and journal it on 2 July. The students participated honestly and shared their thoughts and opinions in the chat box. This small exercise of personal inventory gave the students an opportunity to grow stronger, wiser and more self-aware.
Nishtha Vig of St. Mark's Girls Sr. Sec. School of Class 10-B participated in Virtual Quirrel Model United Nations and won High commendation with a cash prize of Rs. 500/-.
"

Tell me and I forget. Teach me and I remember. Involve me and I learn!

".

Unique designs and features can be found in the variety of different plants, animals, and yes, even landforms. Learning about landforms-the beauty of God's creation, can be lots of fun! Many children are visual learners and the use of models and dioramas is a great way to introduce important information. The students of Class 4 became deeply engrossed in their work, successfully generating some beautiful dioramas on different landforms of our wonderful country. Result and benefit of this activity was - spatial thinking, emotional expression, creativity, new perspective and greater long term retention. So it is rightly said - "

The best way of learning about anything is by doing!".
Film as dream, film as music. No art passes our conscience in the way film does, and goes directly to our feelings, deep down into the dark room of our souls. - Ingmar Bergman

.

SPIC MACAY, the Society for the Promotion of Indian Classical Music And Culture Amongst Youth, enriches the quality of formal education by organising programmes on Indian classical music and dance, poetry, theatre etc. It organised the screening of

"MADADAYO" ("Not Yet")

, a film directed by the renowned Japanese film director, Akira Kurosawa, for Class X students. It is an unconventional story set during the World War II about the the warm relationship between a retired professor and his former students. The movie is as much about the students as the professor; as much about gratitude and love as about aging.

The screening of the film was followed by a discussion with Dr. Indranil Bhattacharya, a famous film historian, researcher and documentary filmmaker.
"The memories we make with our family is everything." - Candace Cameron Bure.



Keeping this in mind, students and parents of Class 4 and 5 participated in the event Interview with RJ on the activity platform "Gupshup, Masti and Mazza". In this event, students acted as celebrities and their parents interviewed them like a Radio Jockey. The event received an overwhelming response from the students and parents in participation. This event was fun-filled where parents and students spent their time together in preparing for the event and created memories. It was a splendid experience.

The mother-daughter relationship is unlike any other in the world; so cherished, complete with mutual understanding, warmth and adoration.

Celebrating this female bond the students of Class 7 got the opportunity to participate in a fun activity organised by the school on MS Teams- 'MOM AND ME', wherein the enthusiastic duos adorned their creative hats to weave English poems using the vocabulary provided by the school. It was a bilingual platform, successfully conducted by our staff, enjoyed by students and parents alike.
"

I have never started a poem whose end I know, it's a self discovery actually

."

"

A poem is a piece of writing that uses imaginative words to share ideas or emotions

."

Mothers of the students of Class 2 made this thought possible by participating in the Virtual Poetry Event "Mom and Me" with their kids. We are glad to share some of the amazing poems composed by them.

The words look beautiful when they are braided into poetry. They looked even more beautiful when the braids are done by moms with their daughters alongside. Presenting before you some of the breathtaking pieces of poetry woven by the students of Class 2 and their mothers during their participation in the virtual event "Mom and Me" organised by SMGS.
Sweet memories are the timeless treasures of the heart. They enchant us and remain with us for a lifetime. To create such blissful moments which could be cherished for eons, we at SMGS organized "Gupshup, Masti and Mazaa* - a plethora of activities wherein the students from Classes I to IX participated with their parents.

The bouquet of activities covered a spectrum ranging from being a

radio jockey, poetry-writing, decorating a corner, enactment, quizzing, and the all-time favourite Antakshari

. The parents came up with myriad ideas as they teamed up with their exuberant fledglings. The endeavor aimed at sharing laughter and spending quality time with our loved ones. A big round of applause and accolades for our revered parents, whose heart warming support made it a joyous and memorable experience for one and all.
"Travel opens your heart, broadens your mind, and fills your life with stories to tell."

A travelogue is a diary of a person's journey to another place. Keeping the pandemic situation in mind students of Class V were encouraged toshare their emotions.

Students gripped it like a wonderful story visualling and emotionally sharing their experiences. The activity sensitized the students about the importance of travel. They spoke about the place their landscape the culture. It persuaded the other students to visit different locations after this pandemic. They also gave the reason as to why they choose that particular place and the most exciting memory of that trip. It was a splendid and fun filled session.
"Creativity involves breaking out patterns in order to look at things in a different way." - Edward De Bono.



'Treasure out of trash', is a craft which follows environmental friendly principle and at the same time creates useful and picturesque objects out of waste products. To make children aware of the uses of waste material and to give them a lesson on reducing waste, a 'Treasure out of trash' activity was done with the little ones of Class Sapling. The little hands had great fun using their imaginative minds to transform a waste plastic bottle into a piggy bank.

The values like preservation, recycling, conservation, reuse, etc. were imbibed by the young minds. They were also given a demonstration of the noble act of caring for our environment. It was amazing to see how scrap could be transformed into such a useful and beautiful objet d' art.
Creativity is different to everyone, but everyone is creative in their own ways. Students of Class IV designed some new and innovative cover pages of their favourite story books to tell readers a story before they even crack open the first page. Let's take a look at their creative side.
An activity 'Let's Get Innovative' was conducted wherein the students of Class II made photo frames using old newspapers. The little munchkins were introduced to the concept of reusing waste material for a cleaner and healthier environment. They came up with innovative and unique designs.
"

Life isn't about waiting for the storm to pass… It's about learning how to dance in the rain

." In order to spread happiness and positivity around in these difficult times an activity 'Gupshup, Masti and Mazaa' was organised for the parents of Class 3 and 6. The parents along with their children and other members of the family presented skits based on different themes.

All the participants enthusiastically participated in the activity. They got an opportunity to showcase their talent and have some moments of fun. This activity helped in creating wonderful memories for everyone.
It is rightly said, "

Creativity involves breaking out of established patterns to look at things in a different way

." Little munchkins of Class I were at their creative best along with their parent when they participated in the My Beautiful Corner Event. They decorated a corner of their house with waste material and other resources available at home.

The event was the perfect example to prove that "

Imagination and creativity can change the world

."
"

Your home should tell the story of who you are and be a collection of what you love

."

Let's enjoy the attractive corners created by our most artistic parents and their little ones from Class I as they participated in the My Beautiful Corner Event.

My Beautiful Corner under the aegis of 'Gupshup Masti Mazza '.
The cartoon characters take you to their fantasy world and give you a space to lose yourself. They allow you to imagine what is unimaginable otherwise. The magic of cartoon characters was visible when children of Class 2 participated in the "The Cartoon Character I Love the Most" activity. It came alive with the beautiful and colourful stick puppets the children used when they spoke about their favourite cartoon character.
Fairy tales capture the imagination of everyone, especially children. It is exciting to read about these magical worlds filled with unique creatures, places and people. When the story ''The Adventures of Pinocchio'' was narrated to our little Munchkin Ayra of Class I-B, she could not resist herself from dressing up like him.
Reduce, Reuse, Recycle - the three great ways that can eliminate waste and protect our environment. These practices are an integral part of sustainable living as they help cut down on the amount of waste we throw away. Incorporating these three principles in our day-to-day life is very important for a healthy environment and are fun at the same time.

Our students in Class 1 were engaged in funfilled activities wherein they used disposable containers, waste paper, etc. The kids were amazed to see the final products that they created using the things which they otherwise thought were of no use.
Debate is a great device for engaging students and bringing life to the virtual classroom. Using debates in the classroom can help students understand essential critical-thinking and presentation skills. Student debate has the capability to deeply engage the students in relevant learning and to inspire students to be deep thinkers.

The school organised a debate on the topic "Impact of covid19 on different economies of the world" for Class 12. The covid 19 pandemic is the first and foremost human disaster where more than 100 counties and territories have confirmed medical cases. In this covid era, it is very important to understand the situation around the globe. The students were allotted different countries and were made to speak about the present economic scenario, impact of covid, steps taken by the government and the wrong steps taken by the government. Later different students representing countries cross questioned them.

It provided students a platform to give their opinion on the current situation,rational ways to deal with it and discussing the major problems like unemployment, poverty, impact of lockdown, vaccination drive etc. Topics like 'impact and policy responses of government', 'covid 19 and the private health care sector' were also discussed in the session.

Every student researched deeply about their countries and enhanced their knowledge about the economies of the world. On a whole, it was a successful event.
"

When we make play the foundation of learning, we teach the whole child.

"

Teachers of Class 4 expressed why play is so vital to our professional paths, creativity, learning, personal well-being and connection to life. And of course, they educated their students why play serves the health and development of children. 'BINGO' through this math activity learning maths was fun and engaging!

The activity was designed to challenge the students thinking and develop their maths problem solving skills.
A jewellery making activity was organised for the students of Class 3 wherein the children designed beautiful jewellery using variety of spices. It was a fun-filled activity which encouraged their creativity. The young ones participated in the activity with enthusiasm and exuberance.
"

Children are the priority, change is the reality, collaboration is the strategy

."

Keeping this thought in mind, an online interactive session was conducted for the parents of Classes I – V wherein the parents were informed about the various interesting activities which will be helpful for them to keep their little ones engaged during the vacations.

It was a fruitful session that resulted in a better bond between the teacher and the parents.
Mathematics is best learnt when the principles are practically understood.



Keeping rote memorisation aside, we at St. Mark's Girls Sr Sec School, attempted to infuse creativity with learning to clear the basic concepts of our students. Class 6 created Magic Squares, Class 7 created Tangram villages, Class 8 created Seirpinski triangle 3 D popout cards and fractal Christmas tree.
Green Guardians, our team of students participating in 'The Green Gurukul Challenge' have been proactively participating in the tasks assigned to them by the Waste Warriors.

Some of the activities they thoroughly enjoyed were :

Organizing a webinar on responsible disposal of plastic waste for their schoolmates;

Making a Young Warriors Club for children in the age group of 8-12 years, wherein they inculcated in them a civic sense of cleanliness and shared the importance of waste segregation through fun games and activities.

Conducting Waste Audit in a departmental store and a restaurant virtually, amid the challenge of the pandemic-driven lockdown.

Interviewing people for Community Campaigns, in which people from the local community were informed about waste management, albeit virtually.

All tasks required high-level research, creativity and team-work, enabling our students to understand the importance of collective action in sustainable waste management.
Not only does God play dice, but... he sometimes throws them where they cannot be seen. - Stephen Hawking.



Dice are such simple little things, and they let us play all manner of games, from the straight forward like

Snakes and Ladders or Ludo and complex board games

.

Keeping this in mind, students of Class V where taught how to make a dice from a sheet .It was an interesting and fun-filled experience for the kids.
Since the technology of electronics has become such an important part of modern life, it is inevitable that it be employed in the creation of art.

An activity session was held for students of Class 3 to make them learn different scenes, posters and objects on Microsoft Paint. Students got acquaintance in their virtual IT class and designed posters and scenery using Paint software.
Activities are the shortest route between children and their creative learning. They allow the child to learn something that could stay with them for a lifetime. With this spirit, a paper craft activity was organized for Class I, wherein children made different

paper puppets and a mini folder

. They performed the activity with full vigour and enthusiasm.
'

If you light a lamp for someone else it will also brighten your path

.'

To engage the students in interesting extracurricular activity using exclusive tool i.e. waste material, and to develop the ability to think and create something useful, students of Class 3 were indulged in Table Lamps making activity reusing old newspapers. They made beautiful table lamps and enjoyed the activity thoroughly.
"

Together May we give our children the roots to grow and the wings to fly

".

Today SMGS organized online Interactive session for the parents of Class Seedling and Sapling. The parents were guided about various fun filled activities to how to keep the child constructively occupied during summer vacations. Parents were enthusiastic so as to learn about the activities which were shared in an online interactive session.

That part of education which teaches us how to live is co- curricular activity. Education without co-curricular activities is like educating the mind without educating the soul. It provides a golden opportunity to promote original thinking and skillful implementation. Students learn to contribute, manage, and organize, individually as well as in a team. It sparks their innate skills of leadership, responsibility, innovation and creativity. Activities of home science was conducted with Class 8th and 9th to hone the creative skills of our students. Students of Class 8th prepare ''

PAPPAD PIZZA

'' and Class 9th prepare ''

OATS AND MIX VEGETABLE CUTLETS

'' and ''

POTATOES AND MIX VEGETABLE ROLLS

''.

These activities not only give an equal footage to every child but also boost their confidence and spirit of independence.
Bringing you some pictures from the in - house activity of "Stick - puppet making" which had students of Class 3 presenting the different

cartoon characters

and describing them with all their zeal and enthusiasm.
Children love creating things and craft isn't just about entertaining the children, it's also a first-hand learning experience – something that plays a part in their early education and development. An activity 'Art Paradise' was conducted for the students of Class II, wherein our little enthusiasts created

caterpillar - shaped penholders

.

The students were delighted and explored their creative selves while performing the activity.
"The dinner table is the center for the teaching and practising not just for table manners but of conversation, consideration, tolerance, family feeling, and just about all the other accomplishments of polite society except the minuet." - Judith Martin.



When it comes to instilling indispensible habits like table manners, its never too early to commence teaching kids atleast the basics. From using the cutlery properly to waiting until everyone has been served, little kids can learn how to be respectful and practice table manners. The table manners that kids learn in their formative years have a profound effect on their personality in their grown up years. So, it is important that the kids are provided with the right environment where they are taught table manners.

We, at SMGS ardently believe in the overall development of kids. Therefore, today our Seedling tiny tots were taught and trained to behave in the right way at the table and they learnt the significance of table manners.
We will never forget the sacrifices our freedom fighters had made. Now it's our turn to reform the country. Freedom of opinion gives you the right to put forward your words freely. So always spread positivity. An interactive session was organised for the students of Class VI to enrich their knowledge about our famous freedom fighters. The students enthusiastically spoke about the freedom fighters and the sacrifices made by them.
Dr. Samir Parikh - Director and Ms. Divya Jain - Head, Psychological Services, Dept. of Mental Health & Behavioural Sciences at Fortis Healthcare Ltd. conducted the Prosocial Peer Moderator Series from 17th May, 2021 – 22nd May 2021 for students of Class XI and XII on a wide array of topics such as

Aggression Management, Media Literacy, Gender Sensitisation, Risk Management, Study and exam skills and caring for the environment

. This program involves students, along with a teacher moderator. In every module, one team of students is trained on one particular topics to equip them with necessary life-skills. The students further use these skills to disseminate their knowledge and coping strategies to their peers, who benefit from their learning. The interactive sessions focused on impact of social media, importance of media literacy, message interpretation, purposes of media messages & deconstructing media messages etc. To make the learning interesting and impactful, various activities were played throughout the workshop including News headline construction where students were encouraged to make a good headline on the given situation through which perception of the readers were explained. Students also enacted few advertisements while the messages and interpretations of audience was discussed.
With the virus mutating itself, there's rush, panic and stress all over. Which is why we are trying to bring some relief in these trying times through our yoga sessions for Classes 6-8, as we believe that these children too need to vent out their pent up energies in an efficient manner.

The hourly session of yoga calms their senses, helps them concentrate better, and gives them the much needed workout to screen-exposed eyes, tense muscles and nerves. The students as well as their parents can reap the benefits of these mind and body opening yoga classes.

"Students do not learn much just sitting in classes listening to teachers, memorising prepackaged assignments and spitting out answers. They must talk about what they are learning, write it reflectively about it, relate it to past experience and apply it to their daily lives. They must make what they learn part of themselves." - Stephen C. Ehrmann.



Mother Dairy Online Plant Visit was organised for the students of Classes VII and VIII. The resource person Mr. Pillai gave a deep insight to our students about various interesting facts about Mother Dairy and its products. It was an interactive session wherein students interacted with Mr. Pillai and got their queries answered related to

Toned Milk, Solid Natural Fat, White Revolution and much more

.This Virtual Mother Dairy Plant Visit was quite enriching and informative.
"Children are educated by what the grown-up is and not by his talk."- Carl Jung.



Parenthood is a blessing, there is no other difficult task than to find a perfect way to parenting.

With this thought, parents of Class Seedling showcased their talent and taught various skills to the little munchkins. The parents directed the children to explore themselves and how to be more creative with craft activities and also how to stay fit with aerobics, yoga and dance.
'The best way of learning about anything is by doing.' - Richard Branson.



Keeping this thought in mind, students of Class V performed various interesting scientific experiments using everyday items used in our life. The students also explained the scientific reason behind the same. The activity was aimed at developing the scientific aptitude of the students. It was a

fun-filled learning experience

for the students.
As we battle a pandemic on war footing, the need to find a way to boost immunity, channelise energy and improve overall health is of utmost importance.

To keep the stress at bay, Our school organized an online yoga workshop for the students of Classes VI to IX.

Yoga helps us build a strong physical, mental and spiritual health system. When combined with breathing and meditation, it acts as the best element to

take care of our mind, body and soul

.

The students showed enthusiastic and zealous participation and the event proved to be a much needed reminder to prioritize health.
"Life is more fun if you play games ." - Rohald Dahl.



As the adage goes, "

All work and no play, makes Jack a dull boy

," is quiet relevant in today's tough times of pandemic. Games help children to develop new competencies that lead to enhanced confidence. They are an essential part of school's curriculum as they help in the cognitive, social and emotional development of students. A couple of activities were conducted under Games Zone wherein the little munchkins of Class 1 played different games like Simon Says, creating compound words with the given set of words, etc. The activities helped the students build vocabulary, enhance their confidence and have fun at the same time.



It was also an opportunity to build a special bond with their teachers

.
Skill is the unified force of experience, intellect and passion in their operation. Fine motor skill or dexterity is the coordination of small muscles in movements - usually involving the synchronization of hands, fingers and eyes. In order to strengthen the motor skills of our little ones, the Ice Block Painting activity was conducted for the students of Class Seedling. They enthusiastically participated in the activity and were elated by the vibrance of different colours.
It's been rightly said that "

The cave you fear to enter holds the treasure you seek

".

To support the development of Sapling kids, our little munchkins were engaged in Treasure Hunt activity.

The little ones were asked to find treasure of letters from newspapers and magazines and according to the given letter they were asked to make simple and easy drawings.

Children were fascinated by the experience in totality and they had a

fun packed day

.
"When children pretend, they're using their imaginations to move beyond the bounds of reality. A stick can be a magic wand. A sock can be a puppet. A small child can be a superhero." - Fred Rogers.

Education through art is entertaining as it engages all the senses. It is also the best way to enhance the creative abilities of the students.

An activity, "Art in motion" was conducted to hone the creative skills of our students of Class Seedling. The finger puppet and stick puppet activities elated the spirits of little ones and helped them develop their visual-spatial intelligence and kinaesthetic intelligence.

Undoubtedly, education is the secret key to success. Education through art is entertaining as it engages all the senses. It is also the best way to enhance the creative abilities of the students. It not only stimulates their out-of-the-box imaginative thinking but also helps them learn the power of collaboration. An activity, "Art in motion" was conducted to hone the creative skills of our students of Class Seedling. The finger puppet and stick puppet activities elated the spirits of little ones and helped them develop their visual-spatial intelligence and kinaesthetic intelligence.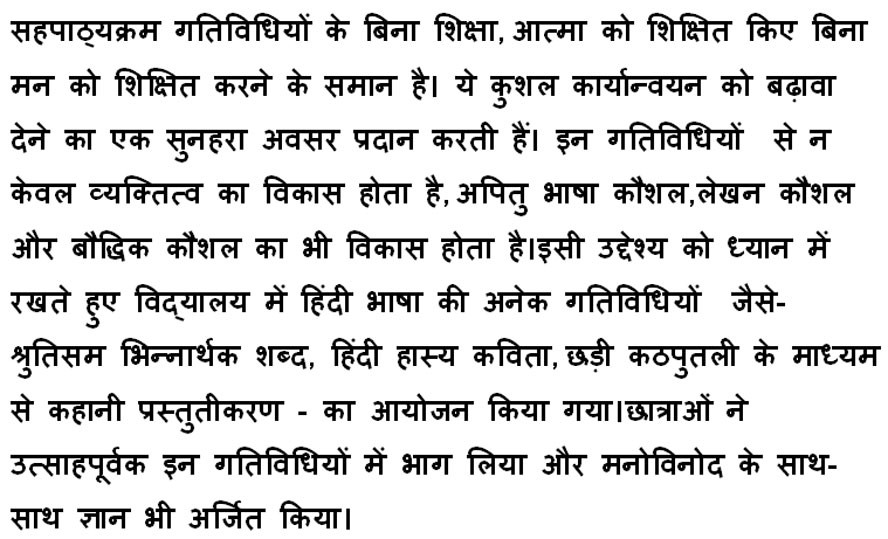 Interaction with parents is imperative and is a great opportunity to know students' performance and to work for the holistic development of students to ensure best academic and non academic performance especially during this unprecedented time. To grow the bond further between teachers and parents, a virtual PTM was held for Classes 6 to 9 wherein the parents were acquainted with the tentative curriculum for the session along with the details of the activities to be done during the summer break so that children are constantly engaged and channelized in the right direction. It ended imbuing the note that a child's mind is not a vessel to be filled but a fire to be ignited.
Learning something new is a fabulous way to be refreshed. When work can grind you down, something about learning a new activity thrills the soul. It reminds you that the world is bigger than your desk and your to-do list.

The preponed vacation at SMGS gave an opportunity to pour in some creativity amongst its students and keep them engaged and occupied. The students of Classes VI and VII participated in 'Just A Minute' and 'Weave a Yarn' activities respectively. Class VI students ardently expressed themselves on the topic given to them; whereas, the students of Class VII narrated interesting stories on proverbs of their choice. The students of Classes VIII and IX enhanced their knowledge and skills by using anagrams and hyperboles respectively, in the genre of their choice. They were free to come up with the self-composed poems, short stories, descriptions, fables, etc.

They could also make use of these literary terms in

poster making, collage making etc.

These fun packed activities enriched the vocabulary of the students and also inculcated the habit of reading, writing and speaking the language effectively.

"There is no doubt that creativity is the most important human resource of all. Without creativity, there would be no progress,and we would be forever repeating the same patterns." - Edward de Bono

.

Creative and fun filled Social Science online activities were conducted for Classes VI and VII. The students of Class VI designed beautiful posters depicting themselves as responsible citizens of India. They enthusiastically spoke about their responsibilities as a citizen while designing their creative posters. The students of Class VII made attractive Cover Pages of Political Magazines of India.

These activities ensured joyful learning and subject enrichment in full spirit.
"Good Manners will open doors that the best Education cannot." - Clarence Thomas.



'Ms. Etiquette' was conducted for the students of Class Sapling where in different activities like

napkin folding, table manners and behavioral etiquettes

were taught.

The activities aimed at encouraging them to follow basic etiquettes and good manners.
Exercising has double benefits, it not only keeps us physically fit but also helps us de-stress, as it increases the level of happy hormones.

Aerobics is one such fun filled activity that combines rhythmic aerobic exercise with stretching and strength training routines with the goal of improving all elements of fitness.

Students of Class VIII of our school enjoyed a power packed aerobic session virtually with full enthusiasm.
Finger Aerobics is an activity designed to workout the

smaller muscles, fine motor skills in children's hands and fingers

. They work in the same way that an actual gym helps us to exercise our larger muscles and gross motor skills. So today our munchkins of Class Seedling wiggled their little fingers for their development of fine motor skills. They also enjoyed doing Finger Aerobics in a fun way. They expressed their creativity with Brain Breaker activity. Seedling toddlers were enchanted and astonished with the experience they had a complete a laughter filled day.
I have no special talent. I am only passionately curious. - Albert Einstein.



Curiosity is the genesis of inventions and discoveries. Science helps us to answer the great mysteries of the universe and is one of the most important channels of knowledge, thus it is quite imperative that we understand the language of science and become scientifically literate. Keeping the thought in mind, a few fun filled activities were conducted for the students of Class II through "Fun with Facts". They gained hands-on experience when they performed varied experiments. The activities aimed at encouraging inquisitiveness in our little cherubim.
The students of Class V had a session wherein each one of them portrayed themselves as one of their favourite RJ .Through this activity, they learnt voice modulation and confidence. It was a splendid and

fun-filled session

for the students.

SMGS organised a virtual Parent Teacher Meeting for Classes I to V on 24th and 25th April. The PTM was planned in such a way that the parents were able to interact with the teachers on one to one basis. The aim of the meet was to create a common platform for the parents and the teachers to come together and discuss various issues regarding holistic development of the students.
"It is not in the stars to hold our destiny but in ourselves."



The 'Bard of Avon' or otherwise known as the great William Shakespeare still hails as the most iconic writer in the history of English and the world's greatest dramatist. The immortal verses penned by the bard still echo and hold relevance in the present. Learning from his literary lessons, St. Mark's Girls Sr. Sec School celebrated the birth anniversary of Shakespeare on April 23 in the most marvellous way possible. An event baptized, 'Shakespeare Comes Alive' was organized for the students of Class 12 where in a live talk show took place. The students impersonated characters from the play 'Julius Caesar', and a panel of journalists questioned their way into their deepest secrets ,motives conspiracies and interests. An exquisite performance was given by the students, in the presence of the Principal, Ms. Sheena Kalenga and the Vice Principal, Ms. Sabina Shergill, who appreciated and praised the students' effort and commitment.
Wanna Party .... Need to invite your friends ....



Take a halt here and check out some amazing ideas of invitation cards designed by the students of Class 4 during their Online Classes.
'

Creativity is intelligence having fun

'.

"

What we learn with pleasure, we never forget

".

Keeping this in mind, an interesting 'Toy Making' activity was organized for the students of Class 3. Our little ones enjoyed making various animals like an octopus, a bee, etc., using colourful sheets. It was a great learning experience for the kids.
"The most important thing in the world is family and love." - John Wooden.



Family is a bond, a long-lasting relationship that hold the family members together. The little ones of Class Seedling learnt about their family, with a fun filled family tree craft activity. It helped them to visualise the relationships with their family members. Overall, our tiny tots loved doing this activity with great enthusiasm.
"

I keep my head up, my wits along. I pay attention, my wisdom strong. Nothing should go unnoticed, for observant eyes, they never go wrong

."

Our children from Class 2 proved this spirit right when they participated in the activity challenge "Pop The Variations" during online activity Classes. Their enthusiasm and observant eyes went hand in hand as they absolutely enjoyed the fun filled activity.
"

A concerted effort to preserve our heritage is a vital link to our cultural, educational, aesthetic, inspirational and economic legacies - all of the 11 things that quite literally make us who we are

."

The Heritage Day was observed with great fervour and aplomb. Students of Classes VI–X and XII participated in various activities to get accustomed to the rich culture of our country. Students of Class V made sketches of their favourite monuments. Students of Classes VI and VII located historical monuments on a political map of India whereas students of Class VIII drew the national symbols of particular states on map of India.

Showcasing their creativity, students of Classes IX and X created new monuments with a twist. They designed a new monument out of two existing monuments. The students of Class XII made presentation on how our capital city, New Delhi was created. With these activities an endeavour to rekindle our interest in the rich cultural heritage of our country was achieved successfully.
More than hundred years have passed but the Jallianwala Bagh massacre continues to be the black spot in the history of India as

General Dyer

had ordered his troops to open fire at a crowd of unarmed civilians on April 13, 1919, on the joyous festival of Baisakhi in Amritsar. Hundreds of men, women and children lost their lives in this massacre.

It is also called the Massacre of Amritsar and is one of the most tragic events in the history of India. In order to create awareness among the students about the the sacrifices made by the martyrs, a

video related to Jallianwala Bagh incident was shown to the students of classes 6th to 12th

. On the 102nd anniversary of the massacre, we pay homage to all those who lost their lives in the deadly incident. The nation will never forget their supreme sacrifices and they will continue to inspire love for our motherland.
"

One who eats healthy stays healthy

".

To familiarize students of Class 2 with benefits of eating fruits, a Fruit Salad Decoration Activity was organized for them. Through this activity, students understood the nutritional value of fruits and were encouraged to eat healthy food.
Blended learning describes a fundamental change in education design by utilising combination of digital learning objects and active learning methods to improve the learning experience and outcome. Keeping this in mind, CBSE organised an online training programme on Educational Technology and Learning in collaboration with Google. The resource person for these webinars was Ms. Deepti Sawhney, founder and CEO of Mahattattva Educational Advisory. Through these webinars, teachers were able to assimilate different tools used in educational technology in teaching learning Strategies for attempting classroom engagement, making learning visible, using technology to design constructive learning environment and finally assessing as well as evaluating learning using technology. This online training programme was indeed a great help for teachers to apply and link technology in teaching learning process.
Resurface, Reupholster, Repaint, Refinish.
Make something old new again ! - Natalie DiScala.

The students of Class Seedling learned and showcased the 3R's-Reduce, Reuse, and Recycle during online class. The three practices we need to observe to lessen the amount of trash we produce. Collectively it has been given a catchy name, 3R's. We discussed with our students, that 3R's is just a game of sorting unwanted items! We also get a reward for playing this game, and that is a cleaner planet to live.

The students got a chance to display their creativity by reusing the things available at home. This led our little learners to think about how things can be reused and they beautifully showcased the reused items they created.
Students of Class 3 made beautiful Warli art paintings. These colourful art works gave us a glimpse of how creative our girls are.
It's time to celebrate!!



Our little fledglings were able to sail effortlessly through their kindergarten year, with grit and determination along with the help of their parents and teachers.

And now is the time for us when we bid adieu to our little ones, while they pack away their memories of Class Sapling, look forward to set new goals, to dream new dreams and see what lies beyond.



"You're off to great places! Today is your day! Your mountain is waiting, so… get on your way!" – Dr. Seuss.
'

The clearest way into the universe is through a forest wilderness

.'

Depending upon the amount of rainfall, there are many different types of forests around the world that have their own landscape and wildlife. To raise awareness of the importance of all types of forests World Forestry Day was celebrated by making a 'Forest and Wildlife Diorama' which was a fun filled way to learn about life in the forests. Doing this activity today, girls of Class IV explored

FOREST WILDERNESS

!
"The expert at anything was once a beginner." – Helen Hayes.



Games have an all round impact on our lives. Keeping this in mind, children of class seedling shared few lines on their favourite sports. They wore interesting headgears and carried colourful props for the same. Children were very enthusiastic and they spoke confidently about their favourite game. Overall, it was a fun filled activity.
'Only a child sees things with perfect clarity, because it hasn't developed all those filters which prevent us from seeing things that we don't expect to see'- Douglas Adams.



Wow! Expressions unlimited!

Students of Class IV commendably expressed themselves in every possible manner during an activity conducted on 'Interjections'.
Special fun-filled activities were incorporated to make the last day of the session a memorable one. Our toddlers from Class Seedling and Class 1 enjoyed the T-shirt printing activity by making vibrant handprints. They also made beautiful necklaces using colorful pasta. Keeping the spirits high on the last day of the school year, our little munchkins actively participated and had a wonderful time.
"Develop a passion for learning, if you do, you will never cease to grow". - Anthony J. D. Angelo.



The mission of providing education, despite all barriers, has become a huge and incredible accomplishment. This was made possible with the help of virtual classrooms, which the teachers tailored as per the exigency. There's no doubt that the end of this year will look a little different but with some minor tweaks and a dash of creativity, our chidren from Classes Seedling to 5 tried their best and stayed enthusiastic during the last day of this academic year. They participated in the various class activities with great zeal.

Popsicle making, Pasta Necklace, Blow paint, Fun with Interjections, Holi PPT, and video on favourite moments, were a few activities which they thoroughly enjoyed

.
Creativity is a natural extention of enthusiasm. - earl nightingale.



Best out of waste is one such craft, which follows an environmental friendly principle, and at the same time creates useful and picturesque objects out of the waste. The little hands of Class Sapling used their creative burst of energy for making beautiful pen stands from old plastic bottles. It was amazing to see how waste material could be transformed into such beautiful and useable item.
"

If a child can't learn the way we teach, maybe we should teach the way they learn

."

Keeping this in mind, a Skilled Parent Workshop was organised for Classes 1 to 3 wherein students participated in various activities like

flameless cooking, zumba, classical dancing etc.

The students thoroughly enjoyed the sessions.
Someone has rightly said, "

Be like a river. Be open. Flow

."

Ahana Gaur of Class III-C will take us on a journey of cross-border rivers of India. So, let's learn some unknown facts about these rivers ......
"Two great things you can give your children: one is roots, the other is wings." Hodding Carter.



Being a parent is no less than bliss; however, there can never be a more daunting task than to find a perfect way to parenting. Children learn more from what we are than what we teach. Therefore, it becomes imperative for us as adults to unlearn a few things and learn / acquire many new skills to model the personality we would like our child to be. In keeping with our promise to pro-actively reach out in forms of workshops and seminars we had a powerful orator and a licensed clinical psychologist Ms. Kriti Munjal to conduct the webinar on "Parenting Skills" during pandemic on 30th Jan. 2021 for parents of primary classes. The aim of the workshop was to motivate the parents to create a positive family atmosphere, believe in the concept of listening to their wards and to effectively meet up to any parenting challenge in today's modern world. The speaker spoke about different parenting styles and how each child is a unique individual on his/her own and not merely an extension of the parents. She spoke about the importance of setting a routine for children and striking the right balance between disciplining a child and giving into his or her emotional needs. A more participative, involved style of parenting will build trusting relationship between the parent, child and the school and will make more secure and mature adults in future. With many questions, doubts and dilemmas being clarified at the workshop, it turned out to be a highly interactive session. The workshop left a grave impact on the minds of parents who already began planning to re-structure their home environments to benefit their children with a complete focus on positive parenting.
Mahatma Gandhi, the most renowned name in the history of India's freedom struggle was assassinated by Nathuram Godse at Gandhi Smriti in the Birla House during evening prayers on January 30, 1948. The day is observed as Martyrs Day or Shaheed Diwas to honour our brave martyr who laid his life for the country. Let's watch the students of Class IV paying homage to the one who fought for the freedom, glory, welfare and progress of India.
Today let us remember the golden heritage of our country and feel proud to be a part of India.

Our country will celebrate its 72nd Republic Day on January 26. With this, let us learn more about our country with the students of Class I and II.
"We are not developing nations, we are not developed nations, we are the United Nations." - Anonymous

.

Model United Nations is an academic simulation of the United Nations where students play the role of delegates from different countries. The Model United Nations is a platform to encourage political thought and dialogue amongst the students. Further, it enables the students to learn the finer nuances of conducting meaningful research and oratory skills.

Since MUNs have various formal processes and intricacies involved, a training session was organised for students of Classes 8 and 9, to inculcate the basic know-how of MUNs in them. All in all, this training session will act as a stepping stone for these students for participation in many other MUNs to come.
We hosted the Model United Nations for the students of Classes 8 and 9. As a simulation of the UN, this event provided an opportunity for students to both emulate the work of the UN and to view the problems facing the international community from a distinctive perception.

There was a noticeable change in the students' demeanour as they opened the debate. Shedding their laid back attitudes and instead donning a professional and serious manner, they transformed into delegates. Through this event, the students learned about the importance of coming together to achieve a common goal in the true spirit of the United Nations.

The first committee was UNGA (United Nations General Assembly) which is the main debating chamber of the UN. The agenda of this committee was - Disaster Risk Reduction. The delegates raised issues related to impact of disasters on mankind, methods devised by various countries to mitigate the impact of natural hazards, ways to tackle natural disasters on a global level and many more.

The winners for UNGA are :-

Best delegate - Nishtha Vig - Class IX (China)
High commendation - Suhani Juneja - Class VIII (Turkey)
Special mention 1 - Pranjal Nigam - Class VIII (India)
Special mention 2 - Riddhi Aggarwal - Class IX (France)
Verbal mention 1 - Bhoomi Anand - Class IX (USA)
Verbal mention 2 - Parul Khurana - Class VIII (South Africa)

The second Committee was United Nations Committee on the Status of Women. UNCSW is an important intergovernmental body dedicated to promoting women empowerment and gender equality. The Agenda of the Committee was Empowerment of Women. The delegates representing different nations raised issues related to various aspects of women empowerment like women education, participation of women in politics, gender stereotypes, economic liberation of women and financial autonomy, their social status and social security.

The winners for UNCSW are:-

Best delegate - Devanshi Yadav - Class IX (USA)
High commendation - Akaisha Arora - Class VIII (China)
Special mention 1 - Ayushi Goel - Class VIII (Japan)
Special mention 2 - Punyaa - Class VIII (Germany)
Special mention 3 - Havee Yadav - Class IX (UK)
Verbal mention 1 - Akshita - Class VIII (Turkey)
Verbal mention 2 - Palak - Class VIII (South Africa)
Verbal mention 3 - Ananya Chandra - Class VIII (Argentina)

After much hard work and dedication, this event was an immense success. It ended with a closing ceremony where our respected Vice Principal, Ms. Sabina Shergill, congratulated the students for their exceptional effort.
'

Alert today – Alive tomorrow

'.

To create awareness about road safety and to minimize road accidents the children of Class 2 and 3 were shown videos and presentations. They got aware about the importance of following the traffic rules while on the road. They also drew different traffic signs and posters on Dos and Donts of Road Safety.
"

Together may we give our children the roots to grow and wings to fly

".

Adhering to it , some parents of Classes Seedling to 3 were invited to exhibit and share their talent and skills with our students. Some parents shared amazing craft ideas wherein children learnt to make origami butterflies, towel rabbits, noise maker, puppets, some narrated lovely stories while others taught the students brilliant dance moves. Children also learnt making lip smacking cakes and cookies. The aim of achieving the twin goals of fun and frolic and knowledge acquisition was completely fulfilled. It was a different learning experience for the students. The proud parents had a glint in their eyes and the children had a smile on their faces as the last day of the year was absolutely fun packed for them.
Storytelling is a unique human skill shared amongst people far and wide. It opens up the vivid imagination that runs wild in children and it also builds confidence and enhances speaking skills. A virtual Story Narration Competition with Puppets was organised for the students of Class 3.

The young vibrant storytellers came forth with wonderful tales. While some stories provided food for thought, others reinforced moral values and were humorous.

The winners were as follows :



First Prize : Arzoi Shamija (3-A)
Second Prize : Aashi Singh (3-D)
Third Prize : Ayushmita Das (3-D)

Consolation Prize :
1. Anshi (3-C)
2. Lavi Dhnakar (3-D)
3. Peehu Sharma (3-D)
4. Diya Kukreja (3-A)
5. Jahnavi Singh (3-D)
"

Dance is the joy of movement and the heart of life

".

Keeping this thought in mind, an Inter Class Dance Competition was organised virtually for the students of Classes Seedling - V to give them an opportunity to display their dancing skills. The vivacious dancers set the floor on fire with their energetic performances. The fun filled extravaganza offered classical, folk and western dances. All the participants dressed beautifully and performed their dance forms enthusiastically.

The winners of the Inter Class Dance Competition are :
CLASS SEEDLING
FIRST PRIZE - CHERYL KAUR (Seedling A)
SECOND PRIZE - AISHLYN KAUR (Seedling B)
THIRD PRIZE - CHARVI (Seedling E)

CONSOLATION PRIZE -
JAPLEEN (Seedling F)
KRIYRSHA (Seedling F)
MYSHA ARORA (Seedling B)
DAANYA (Seedling D)
TANNU (Seedling F)

CLASS SAPLING
FIRST PRIZE - YASHIKA VERMA (Sapling E)
SECOND PRIZE - NAAVYA HANS (Sapling D)
THIRD PRIZE - DEVYANI PORWAL (Sapling D)

CONSOLATION PRIZE -
AARADHYA BHALLA (Sapling C)
DEEKSHI GAUR (Sapling D)
RUHI GOGNA (Sapling A)
AAHANA MAGGO (Sapling B)
PIHU (Sapling B)

CLASS 1
FIRST PRIZE - ASHWIKA DIXIT (I-B)
SECOND PRIZE - ARADHYA DUTT (I-A)
THIRD PRIZE - NAIRA ARORA (I-B)

CONSOLATION PRIZE -
AISHA BHATNAGAR (I-A)
AVNEER KAUR (I-B)
MANNAT MALHOTRA (I-E)
NAISHA BHAMBRI (I-B)
PEHEL LUTHRA (I-B)

CLASS 2
FIRST PRIZE - DHRUVIKA MALHOTRA (II-D)
SECOND PRIZE - MAAHI ARORA (II-D)
KAVYA MATHUR (II-A)
THIRD PRIZE - SHANAYA TRIPATHI (II-B)

CONSOLATION PRIZE -
ARSHNOOR KAUR (II-A)
DISHA BATRA (II-A)
GURDIT KAUR (II-C)
MRIDINI (II-B)
SAANVI GAMBHIR (II-B)

CLASS 3
FIRST PRIZE - SHARON SHARMA (III-C)
SECOND PRIZE - SOUMYA JAIN (III-D), AARNA BHATT (III-B)
THIRD PRIZE - KAYNA OBEROI (III-B)

CONSOLATION PRIZE -
MEHAL CHAWLA (III-B)
MEHAR CHAWLA (III-A)
MONISHA YADAV (III-C)
RITIKA BARIK (III-C)
ANUSHKA BAJAJ (III-B)

CLASS 4
FIRST PRIZE - VAMAKSHI SHARMA (IV-B)
SECOND PRIZE - DIRABJOT JASSAL (IV-C)
THIRD PRIZE - SAKSHI KUMARI SHAH (IV-B)

CONSOLATION PRIZE -
RITIKA (IV-C)
ASHVIKA CHANDELA (IV-A)
KIARA JANGID (IV-A)
DIVYANSHI (IV-A)

CLASS 5
FIRST PRIZE - ISHIKA RATHOR (V-E)
SECOND PRIZE - SHRITI THAKUR (V-E)
THIRD PRIZE - KHUSHI SUHAG (V-D)
SAMIKA KAPOOR (V-E)

CONSOLATION PRIZE -
ISHLEEN KAUR (V-B)
HARSHITA SHARMA (V-D)
DHUNIKSHA KUKREJA (V-B)
ANUSHA MARWAH (V-A)
HIYA (V-A)
Music binds our soul, heart and emotions. It cheers the spirit and lightens the heart. To bring out the singing talent of students, an Inter Class Singing Competition was organized for the students of Classes Seedling - II , IV and V. The children sang with confidence and passion. The mellifluous songs pulled the heart strings of the audience. All the young maestros sang to their level best and made the competition a great success.

Winners :


Seedling
Sapling
Class I
1st Prize - Prackruti Varshney (Seeding B)
2nd Prize - Arooba (Seeding E)
3rd Prize - Purnita Wadhwa (Seeding F)
1st Prize - Prisha Pandey (Sapling E)
2nd Prize - Mokshita Khanna (Sapling A)
3rd Prize- Mihika Arora (Sapling B)

1st Prize - Nivedita Banerjee (Class I D)
2nd Prize - Gaurisha (Class I C)
3rd Prize - Suhani Hasija (Class I D)

Consolation Prizes :
1. Mehar Makhija (Seeding C)
2. Rajasvi Singh (Seeding B)
3. Adavita (Seeding F)
4. Mysha Kaur (Seeding D)
5. Reet Mahajan (Seeding B)

Consolation Prizes :
1. Advita Gupta (Sapling B)
2. Mishika Vishwakarma (Sapling E)
3. Pranjal Vats (Sapling A )
4. Anushka Rana (Sapling B )

Consolation Prizes :
1. Kavya (Class I D)
2. Jeevika Mudgal (Class I E)
3. Sayesha (Class I C)
4. Prabhleen Kaur (Class I A)
5. Mehar Munjal (Class I D )

Class II
Class IV
Class V
1st Prize- Hridya (Class II B)
2nd Prize - Ayereen Kaur (Class II D)
3rd Prize - Gamya Kohli (Class II A)

1st Prize - Priyanshi Narula (Class IV A)
2nd Prize - Nitya (Class IV B)
3rd Prize - Sonakshi Rana (Class IV A)

1st Prize - Livjot Kaur (Class V D)
2nd Prize - Larisha Malhotra (Class V D)
3rd Prize - Saisha Ahuja (Class V E)

Consolation Prizes :
1. Deepanshi Das (Class II A)
2. Aalya Joshi (Class II C)
3. Gurnoor Kaur (Class II D)
4. Arshiya Narang (Class II D)
5. Pranavi Thapa (Class II C)

Consolation Prizes :
1. Garima Chauhan (Class IV C)
2. Hetakshi (Class IV C)
3. Iyishi Srivastava (Class IV A)
4. Zoyee Chawla (IV A)

Consolation Prizes :
1. Saanvi Gupta (Class V C)
2. Priyanka (Class V E)
3. Soumya Chugh ( Class V D)
4. Saanvi Sahni (Class V E)
5. Khanak Saluja (Class V B)

The importance of advertisements in the present times is immense. It is a method that is used to attract people's attention. We come across advertisements through certain mediums like

newspapers, magazines, billboard, buses, internet, and on the radio, flyers, newsletters or posters

.

Students of Class 3 were engaged in Ad Enactment Competition to bring out the healthy spirit of competition in them. Children have an innate love for enactment and in order to appeal the public to buy their product, they expressed themselves in a confident way. The young ones showcased their talents and performed through their remarkable gestures, actions and dialogues. All the children participated enthusiastically.

The competition inspired the children to think, work and enact creatively and promoted artistic excellence and made the event most enjoyable for one and all.

Following are the names of the students who have bagged prizes in the competition :

I PRIZE - RUBAINI DHAMIJA - III C
II PRIZE - NAVYA KHANNA - III C
III PRIZE - DHANYA CHAWLA - III D

CONSOLATION PRIZES :
I - SAMAIRA KOHLI - III C
II - PRANSHI NASA - III D
III - KAVYA JAIN - III D
IV - SAMAIRA KHANNA - III B
V - DHWANI - III B
As we move from the lap of the year 2020 and head towards the new year 2021 Navya Gupta of Class Sapling-B shares her most memorable experiences of the year 2020.
Welcoming the new year feels incomplete without a card. It was a wonderful sight to witness the creativity of the tiny tots of Class Sapling, who with nimble fingers weaved magic on paper. They displayed a blend of innovation and imagination and made cards that showed love and affection towards their loved ones and the bright splash of colours and

decorations symbolized the spirit of festivity and excitement

.
"

When you own your voice, you own your power

".

With this mantra in mind, St. Mark's Girls Sr. Sec. School organised Inter Class RJ Hunt for Class 4 and 5. The participants took upon the role of an RJ to use the power of their voice to convey their thoughts on innovative ideas.



Congratulations to all the participants

.

Winners are as -

First Prize :
Sanchi Gogia (4-A)
Ashita Dhingra (5-A)

Second Prize :
Vandita Arora (4-C)
Suhani Singh (5-A)

Third Prize :
Mishika Arora (4 B)
Arshnoor Kaur (5-B)

Consolation Prizes :
Mehar Kaur Baweja (4-A)
Mansukh Kaur (4-A)
Kyra Laroia (4-C)
Mishika (5-D)
Jiya Ghogale (5-C)
Ananya (5-A)
"

Everybody is talented because everybody who is human has something to express

."

Giving our children a platform to express themselves, SMGS organised a range of activities as they are integral to the holistic development of students.

Two days of 'year-end-fun-filled' activities were organised for students of Classes VI-VIII including

Mono-acting, Radio-Jockeying, Dancing, Singing and News Reporting

.

Through prodigious performances, the superbly talented participants nurtured their artistic pursuits which in turn facilitated lifelong learning through creativity and imagination; for we reckon that imagination is the beginning of creation. It was heartening to witness the students' wholehearted participation, exhibiting and exploring their artistic side through these ingenious activities.

The virtual platform endowed an opportunity to young artists to showcase and share their creative and artistic talent.

It was indeed a day filled with fervour and exhilaration, amidst thrills and cheer.
"

Every time you eat is an opportunity to nourish your body.

"

Complying with it students of Class Sapling made mouth melting 'Chocolate Fruit Shots' during their online class. Children not only enjoyed making the yummy shots but eating such healthy and nutrient rich breakfast filled their body with energy.
"

Creativity - a beautiful art of self-discovery, you can't use it up, the more you use the more you have

." That's the spirit the children of Class I exhibited during the online art class. They made beautiful imprints using different vegetables. The outcome was breathtaking and colourful.
Every year 11 December is observed as International Mountain Day to create awareness about the importance of mountains. Students of Class 2 made drawings depicting mountains. They discussed and learned facts about them.

"

Man must rise above the Earth - to the top of the atmosphere and beyond - for only thus will he fully understand the world in which he lives.

"

Keeping this thought in mind the students of St. Mark's Girls Sr. Sec. School attended the 16th session of the series "Astro Adda" consisting of Astronomy lectures given by members of the Astronomical Society of India, with follow up discussions and projects organised by Nehru Planetarium, Nehru Memorial Museum and Library, and the Public Outreach and Education Committee, Astronomical Society of India.

This session was taken by Prof. Divya Oberoi, NCRA in which he explained about the beautiful phenomenon of *The Invisible Sun*.

In the session students were told about different zones of earth, heat transfer modes and the logic behind this extraordinary phenomenon. It was a good learning experience for the students.
The little girls of Class Sapling made beautiful fish with the help of old CD's, paper cups and glitter. They were happy to create such an easy and quick fish craft in vibrant colours.
Poetry is when an emotion has found its thought and the thought has found words. It is a search for syllables to shoot at the barriers of the unknown and the unknowable.

Poetry comes alive through recitation. Recitation is one of the important and effective modes of learning a language and appreciating a piece of literature. The students of our school brought alive the various genres of poetry and exhibited their talent in the Inter Class Recitation Competition held virtually for Classes 8 and 9. The students recited their poems with great fondness and zeal. They enjoyed the perfection of expression, thoughts, emotions, rhythm and music of words. Some of the poems such as

'The Sailor Who Had Worked At The Slave Trade', 'Refugee Blues', 'I am the People, the Mob, etc.

were heart touching and thought provoking. The judges appreciated and applauded the performances of the participants Vanshika Batra of 8-D, Gurbani Kaur of 8-B and Akaisha Arora of 8-D bagged the first, second and third position respectively. In Class 9, the first, second and third positions were bagged by Ayat Fatima Rizvi of 9-C, Devanshi Nigam of 9-C and Bhoomi Anand of 9-D respectively. Gun Jatav of 9-B mesmerized the audience with her self composed poem on the current situation and won a consolation prize.
Students of Class 1 created beautiful animal homes using waste material. The colourful and attractive models gave a glimpse of the imaginative and creative skills of our little ones.
Debating matters because ideas matter

. This is the premise of the Debating Matters Competition for students which emphasizes substance, not just style, and the importance of taking ideas seriously. It is an event jointly organized by Academy of Ideas, UK and the British Council, India to which our school, St. Mark's Girls Sr. Sec. School, had the incredible opportunity to be a part of.

Amidst the pandemic, the competition was piloted through the online medium, with SMGS being a part of group Marigold. The group also consisted of two schools from UK and another from India.

SMGS was scheduled to have one national and two international debates, out of which we emerged victorious in two events. The first debate revolved around the motion - 'Childhood vaccination should be compulsory' - was scheduled for the 29th of November against Douglas Academy, Dunbartonshire. Representing us were Khanak Jorwal and Lakshita Chhabra of class XII.

The second team consisting of Garima Sanger and Udita Bhardwaj of class XII, emerged victorious in the second debate on the subject - 'Populism is a threat to democracy'. The event took place on the 5th of December against Queen Elizabeth Grammar School with our team defending the motion. After the conclusion of the two international debates, the final event took place on the 12th of December against St. Mary's School, Pune on the issue - 'Climate Emergency: People should not have more than two children'. The debate augured well for us as Chahat Nihalani and Harshita Kohli of class XII, drove us to a stellar victory. Instrumental in the students' performances were Ms. Vaneet and Ms. Isha, who constantly provided their mentorship to them.

At the end of this affair, the students find themselves more informed about vital global crises; becoming more tolerant of what the other side has to bring to the plate and learning the art of persuasion in order to address argumentations using conviction and not coercion. Thus, debating topics that matter.
"Learn as if you were not reaching your goal and as though you were scared of missing it".



Model United Nations (MUN) conferences have become a significant part of the co-curricular world at schools and colleges today. An activity driven by extensive knowledge and preparation, MUNs sit at the intersection of professional skills, communication skills and global know-how.

The secretariat at Global Youth Parliament dedicated training sessions to each committee and the executive board members helped the students to excel in the skills needed for the domain. They gave students a comprehensive overview of the United Nations - its aims, objectives, components and functions to acquaint students with the fundamentals of the MUN. Expert guidance on the art of constructive research - knowing where to look, filtering out relevant information and organizing it into clear, logical and compelling arguments was provided to the participants. Our aim behind the training sessions was to provide strategic guidance to build and perfect delegates, debating skills, covering effective debating techniques, debate direction, argument defence, interjections and diplomacy.
The students of Class VII viewed the classic Japanese movie Kagemusha directed by influential film maker Akira Kurosawa on 27 November 2020. This was screened on zoom by Spic Macay, Society for the Promotion of Indian Classical Music and Culture amongst Youth, to make the students of various schools experience the inspiration and mysticism embodied in Indian and World heritage.

The movie Kagemusha (

The Shadow Warrior

) is based on the true story of Shingen Takeda, a 16th century clan leader in feudal Japan. It is majestic, stately, exciting with great visuals and stylistic traits.

The screening of the movie was followed by an interaction with the students, enlightening the youth of the country about one of the most successful and dazzling epic.
The students of Class V had an enriching and interesting activity to design their own newspaper, giving it an appealing name. The students were asked two weeks prior to read the daily every day and listen to the news channel to stay updated about the current national and international news on myriad fields viz., sports, entertainment, weather and politics.


They were then asked to write articles as a correspondent and put them together in their miniature newspaper. It was a lovely experience for the fledglings of class V to build up their interest in current affairs and get cognizant about the world. The activity took place during their online class. The students put in best of their efforts and came up with a phenomenal and commendable work.
"

The best way of learning about anything is by doing

."

To learn better about the structure and sequence of teeth in our mouth, students of Class IV made 3D models of human teeth with soft clay. Their creations were praise worthy.
Every breath is a giveaway dance between you and plants

.

The young minds of Class Sapling performed an activity virtually wherein they showed various medicinal plants and discussed about their uses too.
"

We need technology in every classroom and in every student's hand because it is the pen and paper of this time and it is the lens through which we experience much of our world

." Complying with this, Advika Dua of Class III-B created a beautiful scenery using Tux Painting Tool.
Weekend Special - The Secrets of War (Classes 6-8)
Dummie the Mummy (Classes 9-12)

The Embassy of the Kingdom of the Netherlands in New Delhi with the outreach partners, India International Centre and India Habitat Centre organized a Dutch Children's Film Festival 2020. The festival began with the online Dutch film '

The Secrets of War

' which was shown to the students of Class 6-8 of our school on Saturday and Sunday, 7 and 8 November 2020.

The movie revolves around two young boys during the second world war. It was a touching story about friendship, trust, courage and forgiveness.

On 14 and 15 November, the students of Classes 9-12 were shown '

Dummie de Mummie

'. The movie, directed by Pim Van Hoeve, is a beautiful tale that portrays how deep human bonds are.

The movies provided a wonderful opportunity to both the children as well as the parents to sit together and enjoy.
A flameless cooking activity was organised for students of Class 3 on the digital platform. The little chefs enthusiastically prepared

mouth watering Bhelpuri

.
To mark the auspicious occasion of Diwali, students of Class 3 enthusiastically made beautiful diyas and amazed everyone with their creativity.
Rangoli making is an integral part of Indian tradition and culture since times immemorial.

Rangoli ushers in vibrancy, prosperity and positivity. Myra Arora of Class II-C is all set to share her favourite design.
Proudly presenting you the gift of labour and love with lovely Rangoli designs

.

Diwali was celebrated by the students of Class II showcasing their exquisite art and craft skills. Our dedicated students amazed us with attractive Rangoli patterns for Diwali decoration.
With Diwali round the corner, people get engaged in decorating their houses. At such an ideal time, HT Pace conducted a craft workshop on Paper Lantern Making for the students of Classes VI and VII on 10 November 2020.

The students were shown various techniques of making colourful paper lantens. They were then given time to show their dexterity in designing light weight lanterns which can be conveniently hung on the wall.

The zealous participation by all and sundry eventuallyresulted in viewing lanterns of different shapes, sizes and colours by the end of the workshop. It was a visual treat to see the techniques of folding and cutting the paper crafted to an embellishing and alluring lanterns.
Diwali or Deepawali is also known as the festival of lights as it is traditional to light up your house with an impressive array of candles and small clay oil lamps.

The online class wore a festive look wherein the tiny tots of Class Seedling made beautiful and colourful diyas. They enjoyed this fun filled activity.
Diwali is the most joyous and celebrated festival of the year. The rituals include

going shopping, decorating homes, exchanging gifts and wishes

. On this auspicious occasion children of Class Sapling made colourful bandhanwars, an ornamental door hanging. The key motive behind accessorizing homes with bandhanwar is to appease Lakshmi, the goddess of Wealth.
You don't have to cook fancy or complicated masterpieces, just good food from fresh ingredients can make anybody fall for it. Anaisha Devraj of Class I-D followed the same path and decided to create her own recipe proving that innovation has no limits.
To awaken quite alone in a strange town is one of the pleasantest sensations in the world.



In today's world, we usually make several intricate plans to visit all the famous places across the globe hoping that it would provide us with that dose of refreshment and fun. Although that is not wrong, it's time we explore and rediscover the beauty of the hidden gems of India and give them the chance they deserve. Keeping this in mind Students of Class V prepared creative and attractive posters depicting various monuments of India. The activity was a great opportunity for the students to showcase their innovative and creative ideas. Students participated with great zeal and enthusiasm and created wonderful posters. The activity sensitized the students to understand the importance of these unexplored but beautiful destinations. It was a splendid session which gave a platform to all the students to enhance their creativity and innovativeness.

Link : https://www.thrillophilia.com/blog/inspiring-travel-quotes-feel-life-is-short/
An activity 'Exploring Spices' was conducted for the students of Class III, wherein they learnt about the various spices used to give taste and flavour to food. The students created artistic jewellery sets using spices and thoroughly enjoyed the activity.
Flashcards are an incredibly versatile study tool, they are very good at helping the kids to associate the relationships between the sounds and the symbols of alphabet.

Children of Sapling were encouraged to use letter flash cards to make various phonetic words to help them reiterate the phonetics. Along with making the words they also drew the corresponding pictures.
Clay craft is a fun and interesting way to encourage a child's imagination and creativity. Kids love the vibrant colours and doughy texture of play dough. Playing with clay improves the fine motor skills of children, as they use their hands to mould different shapes. With little guidance the little ones of Class Seedling made fascinating art work out of modelling clay.
Sheep are farm animals that are fascinating creatures! The young children of sapling enjoyed making sheep with cotton balls as their craft activity.
The man of science has learned to believe in justification, not by faith, but by verification - Thomas Huxley

.

Science and technology revolutionise our lives, but memory, tradition and myth frame our response. Everything is theoretically impossible, until it is done. Enjoy watching a wonderful video on a few Mythbusters by Avleen Kaur of Class 4-A.
"Every human being is the author of his own health or disease." – Buddha

.

To maintain a healthy lifestyle, we need to keep eating healthy. Keeping it in mind, the young enthusiasts of Class IV stepped into the shoes of chef and demonstrated a few recipes of various kinds of healthy and yummy salads. Not only they enjoyed making it, but also learnt the significance of health and healthy food in our daily life. The entire idea aimed at spreading awareness about how a simple step towards a healthy lifestyle can change our life for good and make it better.
In a brief talk show of sorts, our esteemed member of management; Rahul Aggarwal Sir and Dr. Samir Parikh spoke upon the role of NEP and its impact on the mental health of youth. While Aggarwal Sir necessitated the need of the NEP and its benefits for the education system and how the various permutations and combinations of subjects that are now available to the students will holistically cater to their interest, thereby enhancing their performance.

Dr. Parikh gave insights into the mental impact of this reform policy on the youth.

He did not singularly put the onus of mental issues on the education system or parental guidance, rather he counted a series of vectors vis- self created pressure, family dynamics, peer pressure, media and society at large, that effect the mental health of these budding adults.
Learning is not bound to pen-paper. The students of Class Sapling learnt a new game called AKSHARON KA KHEL to enhance their knowledge of Hindi language. The game was organized virtually in which they had to identify the letter (akshar) and tell the related words. The students learnt many new words and thoroughly enjoyed the game.
"

Activity based learning teaches children how to be self directed learners, building confidence and resilience.

"

Keeping this thought in mind, the students of Class 1 performed an online activity based on the topic Naming Words. The children were asked to paste pictures of nouns in appropriate columns. Through this activity they were able to understand the concept in a better way.
"

Whatever we learn with pleasure, we never forget

."

Keeping this in mind the tiny tots of Class Sapling were taken on virtual tour of Jungle Safari wherein they learnt about various wild animals. They created a beautiful jungle scene by drawing and pasting pictures of different animals and had lot of fun.
Prayatna Educational Society, in association with Quebec Government Office, Consulate General of Mumbai, organized French Word Power Competition to test the knowledge of students in French language. P.E.S is a non-profit organization which helps students and teachers to discover French culture through various activities.

We are glad to inform you that Gaurika Dhamija (VII-E) and Pahulpreet Kaur (VII-D) have qualified for the National level French Word Power clearing the State level exam and making us proud.



We appreciate their hard work and dedication

.
Story telling is a universal and traditional art form that has featured strongly in Indian culture as an effective communication tool. It can be used to inform, entertain and educate. It is often used as a medium to ingrain values, improving reading skills and opening the minds of children to worlds beyond imagination.

A workshop for story-telling was attended by teachers and parents of Class Seedling to 2 where in the famous Author - Ms. Nalini Soren was the spokesperson. She talked about her famous books like '

While You Are Sleeping

' and '

The Star That Saved The Day

'. The session was indeed valuable and distinct. Teachers and parents found it really interesting as it was an interactive session.
The little cheribiums of Class Seedling learnt making sketches of Ravan, which they made following an Innovative way using shapes and numbers. The kids coloured them too.

Overall, it was a fun filled Art Activity

.
Play is the shortest route between children and their learning. To teach the children of class I, the concept of different kinds of houses an activity was conducted during the online class in which students made various types of houses using matchsticks. It was an enriching and funfilled experience for the children.
"

The Pleasure about reading is that, in that very moment, while your nose is stuck in that book, all your troubles fade, you and your book are the only two things that exist in the world.

"

The pleasure belonged to Class 4 in the activity "Reading Time" conducted during the online session. The children enjoyed the activity to the core and showed great enthusiasm.
"It is health that is real wealth and not pieces of gold and silver." – Mahatma Gandhi.



To encourage healthy eating Class 2 students did "Flameless Cooking" activity where in students prepared healthy sandwiches using vegetables like

cucumber, avocado, tomatoes, onions etc.

They decorated their sandwiches in an artistic and aesthetic way which was most appealing and the virtual display was a visual treat ticklingthe taste buds.
"

Navratri festival is the joyous way of worshipping Goddess Durga

".

The festival is celebrated all over the country with joy and fervour. On this occasion an online class activity for tiny-tots of Sapling was conducted wherein they enjoyed making and colouring the face of 'Maa Durga.'
"The more that you read, the more things you will know. The more that you learn, the more places you'll go."
Students of Class 3-D showcased their inclination towards books by reading in their leisure time, drawing and writing few lines about their favourite character. This activity helped students to inculcatelove for reading from a very young age.
The birth anniversary of former President APJ Abdul Kalam on October 15 is observed as World Students' Day. To honour India's most loved President and the favourite teacher of numerous students, it was celebrated by the students of Class IV, wherein they expressed their thoughts on the theme 'The Golden Years of Student Life'.
"

Grandma's stories are the reason why we all are excited for the class today

." This was the note on which today's class started in the morning with the lovely and graceful grandparents on board narrating beautiful stories to the children of Class I. It was not only grandmas who narrated, grandpas too were equally enthusiastic interacting with the children. The grandparents were applauded and loved by the cherubims.
SPIC MACAY is a global voluntary youth movement focused on bringing finer aspects of music, art and culture to educational institutions. One of the major section of its activities is screening of classics from world cinema to younger students in schools and colleges. Their list covers major works by legendary filmmakers like

Charlie Chaplin, Satyajit Ray, Akira Kurosawa, Ingmar Bergman etc.

, and of top filmmakers in Indian languages. After screening of the films, this organization invites renowned experts from the cinema and visual arts community to interact with the students, guide them on the art, technique and philosophy of films, as well as inspire the younger minds to appreciate films better. Keeping this spirit high, SMGS in collaboration with spic macay organised an informative session for students of Class IX, where they had an exposure to the finer aspects of cinema. Students of our school got to know about every minute details of the life of our National Leader Mahatma Gandhi in the film 'Gandhi', which was directed by Richard Attenborough. Indeed Gandhi is considered a classic of world cinema as well as the greatest movies of all the times. It was a really an informative and learning experience for our students who imbibed the principles followed by Mahatma Gandhi.
As a collaborative effort to broaden the scope of French pedagogy, SMGS in collaboration with Rachna Sagar Pvt. Ltd. organized French Poem Recitation and Solo Singing Competition for the students of Class 6 and Class 7 respectively. It gave the children a platform to showcase their flair and understanding of the French sounds and pronunciation and helped them gain perfection in it. The activities were aimed at developing confidence in the students, who came forward and performed with great zeal. The students enjoyed the beauty of expressions, thoughts, feeling and rhythm. They are awarded e-certificates and some interesting French story ebooks from Rachna Sagar Pvt. Ltd.

The winners are as follows:



Class VI
I - Shrijita Gautam
II - Ashika Kumari
III - Delisha Jain

Class VII
I - Ojasvi Bakolia
II - Palak Sharma
III - Vandana Negi

Congratulations to the winners!
"

The love of gardening is a seed, once sown that never dies

." - Gertrude Jekyll.

Rhea Bajaj of Class IV-C will tell us the different reasons to plant a tree. She will also throw some light on the significance of a garden and gardening as she believes that gardening is one of the true forms of happiness.
A body of clay, a mind full of play - that's me. Harshikha Kumar of Class Sapling is sharing her ideas of making natural clay as it is non-toxic, flexible and easy to make.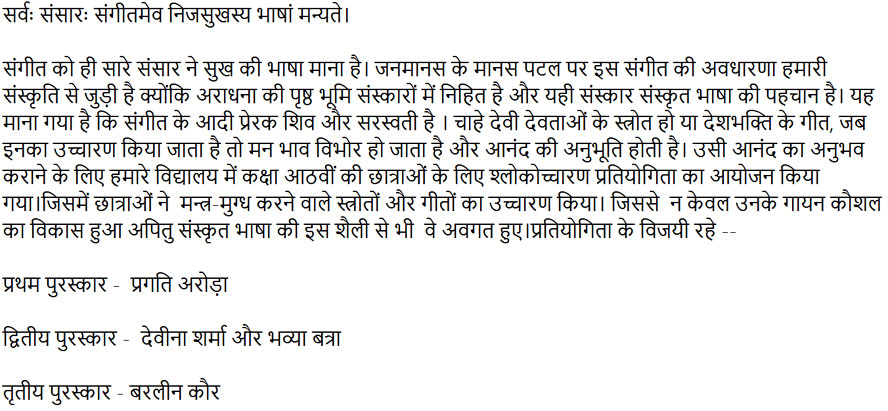 "Education should not be the filling of a pail, but the lighting of a fire." - William Butler Yeats



It is believed that in order to confront the challenges the world faces, people especially the youth need to define issues and develop strategies for action. To create awareness among the students about the functioning of our legislature where all the important laws concerning the nation are formulated, a 'Mock Parliament' was conducted for the students of Class-X. The students portrayed some of the members of the Opposition parties and different portfolios of some of the ministers of the ruling party in Lok Sabha. They debated on the recent steps taken by the government on the 'Banning of Chinese Applications'. The session concluded with a voting for or against the bill. With the ruling party being in majority, the bill was passed successfully. The students gained an insight into the working of the Parliament and learnt how important legislations are passed in a democracy.
"

Art has power to transform to illuminate, to educate,inspire and motivate

."

Presenting before you the Art work of our students - Harnoor Kaur 2-A, Kyra Larosa 4-C, Gurjas Kaur 2-B.
Can you make an egg float in water? In this simple experiment, Mishita of Class I-C, will take a few minutes to show you how easy it is to make an egg float and the science behind that.
"

To plant a garden, is to believe in tomorrow

".

Let us all lend an ear to our future green activist from SMGS, Rayesha Khera of Sapling-A, who is here in her garden to tell us some very interesting facts about plants.
We all know that there are many waste materials in our home like discarded CD. We can use such CDs in a useful way. So, in this video Aarna Gupta of Class 5-A will show you how to make a portrait of Ganesh ji using discarded CD.
Let's take a look at our little cherubims from Class Sapling, presenting their stories enthusiastically

.

A wise man once said, "

After nourishment, shelter and companionship, stories are the thing we need the most in the world

."

It's the stories that give wings to our imagination and takes us to places beyond the boundaries of our physical world and into the land of fairies, dragons and wishing trees. Since time immemorial, story telling has been an integral part of our childhood. To keep the tradition going and to incite curiosity and the love for reading in children, an online Story Telling Competition was held on 29 August 2020 for class Sapling students. The young enthusiastic story tellers armed with their props came forth with wonderful tales. While some stories gave the audience food for thought while some reinforced moral values.

The event was thoroughly enjoyed by everyone. The little story tellers won everyone's heart and were applauded.

The winners were as follows :

First - Pushti (Sapling D)
Second - Deekshi Gaur (Sapling D)
Third - Moksha Sharma (Sapling E)

Special Prizes

Diya Gogia - Sapling A
Yoshima Gandhi - Sapling D
Siyona Juneja - Sapling E
Mannat Kaur - Sapling E
Anaisha Goel (Sapling D) secured first position in Cooking without fire competition.
Plato once said, "

Music and rhythm find their way into the inward places of the soul

". Music gives wings to the mind and flight to the imagination. Watch Gracy Khetpal of I-A playing her keyboard and singing beautiful rhymes , so let's get started.
Aarna Bhatt of III-B utilized these lockdown days to discover her hidden talent and to showcase her creative flair. Her love for stickers but inability to go to the market inspired her to make her own stickers at home and hence proved that the more we use our creativity, the more we have.
Music is the only medicine to heal heart and soul. It has a magical effect on our health.

Lets learn some soothing notes from our little munchkin Selina Gupta of Class Seedling B whose playing a song on piano.
"Play is our brain's favourite way of learning." - Diane Ackerman

.

Exercise not only changes your body, it changes your mind, your attitude and your mood. Harnoor Kaur of 2-A will tell us how to keep ourselves fit and healthy during this pandemic.
Let's take a look at the little ones from Class Seedling, dressed up in the colorful costumes for the competition

.

Each child is blessed with talents which are unique and to bring out these hidden talents, St. Mark's Girls Sr. Sec. School conducted a virtual Inter Class Fancy Dress Competition for Class Seedling. The purpose of conducting the competition was not only to blend learning with fun but to also develop confidence in the students by giving them an opportunity to face the audience on screen. The students dressed up in colorful costumes and spoke a few sentences on the character they depicted. All the little ones were looking adorable. It was a feast for the eyes to watch the tiny tots performing with enthusiasm.



The Winners were :

First Position - Trisha Batra (Seedling - E)
Second Position - Tavgun Kaur (Seedling - F)
Third Position - Selina Gupta (Seedling - B)

Four Special Prizes were also given :

Verenya Arya (Seedling - A)
Fiona (Seedling - A)
Cheryl Kaur (Seedling - A)
Advaita Jaiswal (Seedling - F)
The Smart Vocab Challenger held the

Champions League for the Champions

of the last 3 years on 8th August 2020.

Mahika Gupta of our school, who was a champion in 2018 participated in the contest.

Ms. Dolly Haryal, the Secretary General of Svc Guild conducted the contest, which comprised of 5 rounds, all of which engrossed the participants as well as the audience alike. The rounds were based on clues given, and the participants had to arrive at the word closest in meaning to them. The event, which was very well planned and thought of, ended with a rapid fire round pertaining to 30 points.

Mahika Gupta of Class 11-B added a feather in the cap by securing the first position, along with two other participants

. It was truly a bemusing session and even the audience participated with zeal. The participants, who belonged to different schools from all over Delhi and NCR possessed a remarkable vocabulary. The students got a taste of something refreshing and different amidst these pressing times. It was overall a very gruelling and engaging competition and left everybody in high spirits.


'The tobacco epidemic, one of the biggest public health threats the world has ever faced, kills more than 8 million people a year all over the world.'

In order to know the harmful effects tobacco has on the health and the environment, it is imperative to know what exactly tobacco is. Tobacco is a plant. Its leaves are smoked, chewed, or sniffed for a variety of effects. Tobacco smoke contains more than 7,000 chemicals, at least 70 of which are known to cause cancer. Out of these toxic substances, the most important and dangerous ones are nicotine, carbon monoxide and tar. These substances are responsible for reducing the oxygen level of the blood, leading to shortness of breath, and contain one of the deadliest cancer causing agents known. Tobacco also contains addictive substances, which lead to addiction. Thus, tobacco users find it difficult to leave it.

There are various forms of tobacco intake, such as cigarette, which is the most common form, bidi, cigar, hookah, sheesha, tobacco chewing/sniffing, kreteks (clove cigarettes) and lastly, e-cigarette/vape. Regardless of the form of intake, tobacco consumption causes many health problems and causes a lot of damage to the body, although the degree of damage may vary from one form of intake to another. Some ways in which it harms the body are, by causing poor vision, unhealthy teeth, hair loss, high cholesterol, hearing loss, loss of appetite, persistent coughing, wrinkling skin, etc. It also weakens the immune system and puts the person at a risk of other problems and diseases.. It damages the respiratory system, putting people at a higher risk of chronic lung conditions like emphysema, asthma, chronic bronchitis, tuberculosis, chronic obstructive pulmonary disease (a group of lung diseases and even lung cancer. Not only this, it also damages the cardiovascular system. It raises blood pressure, weakens blood vessel walls, and increases the risk of stroke and heart attack. Tobacco is also associated with cancer of respiratory tract, mouth, skin, lung, liver, pancreas, kidney, blood, urinary bladder, oral cavity, nasal cavity, cervix etc. The use of tobacco temporarily puts one in a good mood, but it leads to dependence and eventually the person starts feeling irritable and anxious. Low emotional stability and risk taking behavior are also more common in tobacco users.

Not only this, tobacco causes a lot of harm to the environment as well. Tobacco growing usually involves substantial use of chemicals, including pesticides, fertilizers and growth regulators. These chemicals may affect drinking water sources as a result of run-off from tobacco growing areas. Tobacco crops deplete soil nutrients by taking up more nitrogen, phosphorus and potassium than other major crops. Besides, cigarette stubs are the most commonly discarded piece of waste globally and are the most frequent item of litter picked up on beaches and water edges worldwide! These contain hazardous chemicals which end up entering the food chain after penetrating into the soil and getting bleached into water.

Electronic cigarettes may contain batteries that require special disposal as well as chemicals, packaging and other non-biodegradable materials, which cause further damage to the environment. Tobacco smoking leads to the emission of 2 600 000 tonnes of carbon dioxide and about 5 200 000 tonnes of methane, thus polluting the air. Last but not least, tobacco growing leads to deforestation as well. This can be elucidated from the fact that tobacco growing caused significant deforestation between 1990 and 1995, amounting to approximately 2000 hectares.

Thus, we've seen that tobacco poses a threat to the health as well as the environment. The governments must take considerable measures regarding this. Smoking should be prohibited in all public places, and there shouldn't be any provision of hookahs and vapes in restaurants and bars as well. There should be an increase in the unit price for tobacco products, which will decrease the number of people using tobacco, reduce the amount of tobacco consumed, and prevent young people from starting to use tobacco. Schools and colleges should educate students and spread awareness, telling how tobacco is harmful for health, and must never be consumed. Parents should also keep a strict check on the activities of their kids, and show them the right path. There should be awareness campaigns and mass media campaigns; posters and hoardings should be put up to educate people. Besides, more and more support groups and rehab centers should come up for all those who need support in stopping its consumption.

By taking broad-based but effective action against the environmental hazards created by the tobacco industry, the demand for tobacco products will be further reduced and with strengthened environmental policies, there will be increased costs for tobacco products, decreased social acceptance of tobacco use and changes in the most commonly used tobacco products.

The governments are slowly taking more and more measures. The fact that ads portraying the ill effect of tobacco consumption on health are shown in cinemas is truly commendable.

Female smokers should also consider the fact that maternal smoking is associated with congenital malformations in the baby, and can cause increased risk of allergies, stunted growth, poor lung function, and higher blood pressure in their child.

The fact that the 'Smoking kills' written on a cigarette packet doesn't seem to have any impact on the user, shows that people need to reform their choices, and that we're still a long way to go in this fight.

People should look beyond themselves, and should consider the fact that exposure to secondhand smoke carries the same risk to a nonsmoker as someone who does smoke which means, that they're not only harming themselves, but also those around them. Hence, this battle can only be won if everybody comes together!

Name : Mahika Gupta
Class : 11
School : St. Mark's Girls Sr. Sec. School
Father's Name : Vishal Gupta
DOB : 29.04.2004




Not being 'cool' in a generation that we exist in is so not okay, right? It has become so imperative that we are ready to risk our lives for the sake of fitting in. But is it really 'cool' to be 'cool' if we have to put our own lives at stake ?

Tobacco is one such thing that is synonymous with 'fitting in', 'being acceptable' and obviously our favorite, 'cool'. Tobacco in layman words are crushed leaves that contain nicotine which is an addictive and noxious substance. People, especially teens, resort to tobacco consumption under peer pressure, stress and anxiety. Peer pressure is the major reason out of the three. Because your friends do it, you do it too as you don't want to be that friend who is left out when the rest are having fun. Jeopardizing your health, that of people around you and of our dearest mother earth is fun, isn't it? Perfect example of blind following the blind.

We all are mindful of the harmful effects of Tobacco on our health and the environment's. But why do we still act oblivious of this fact? Our dear Earth is in an ailing condition. What are we doing to mitigate the same? One of the most prominent factor contributing to the deterioration of our planet's health is tobacco. Tobacco is found in cigarettes, cigars, bidis, shisha, vapes and is also available in edible forms. Smoking leads to one of the most fatal chronic disease i.e. lung cancer. It doesn't end here. A short period of frequent smoking causes shortness of breath, fatigue, fertility and virility issues and a weak immune system. The list doesn't end here. The waste from cigarettes exude toxic chemicals into the environment, consequently leading to air, water and land pollution.

Cultivation of tobacco significantly contributes to deforestation and soil erosion. Smoking contributes the most to air pollution. Hence, incessantly plummeting levels of oxygen in the atmosphere.

Do we really realize how it's going to take a toll on our future generations? Is this planet going to qualify to nurture more humans or are we going to disqualify to nurture the planet? The choice is ours. We cannot evade from the ringing alarm anymore, the warnings that our planet gave us are gradually turning into actuality. It's simply a do or die situation right in front of us. Let's stop deluding ourselves and start taking responsibility for our actions. If we do not save this planet, it won't save us.

Name : Vibhuti Dogra
Class : 11-C
School : St. Marks Girls Sr. Sec. School
Father's Name : Arun Dogra
D.O.B. : 14 September, 2004


Tobacco use is the single largest preventable cause of disease, disability, and premature death. Statistically, the global tobacco epidemic kills nearly 70 lakh people each year, out of which 13 lakh people die in India alone. Not only does tobacco consumption cause lethal diseases like cancer, cardiovascular diseases, diabetes, chronic breathing problems, infertility, oral cavities, TB, and stroke, it is also a major contributor to Covid-19 cases worldwide. Smoking, be it in the form of biddis / cigarettes / sheesha can increase your chances of getting Covid-19 by transferring the virus by bringing your hands to your mouth.

Spreading awareness against the same, through the virtual mode, our students involved themselves in making interactive posters on 'World No Tobacco Day', wrote thought provoking essays on 'Harmful Effects of Tobacco' and took a pledge to never consume tobacco products.

The initiative sensitised the adolescent minds to keep themselves wary from such substances.

Name and Class : Aashi Jain and Parthvi (7-E)
School : St. Marks Girls Sr. Sec. School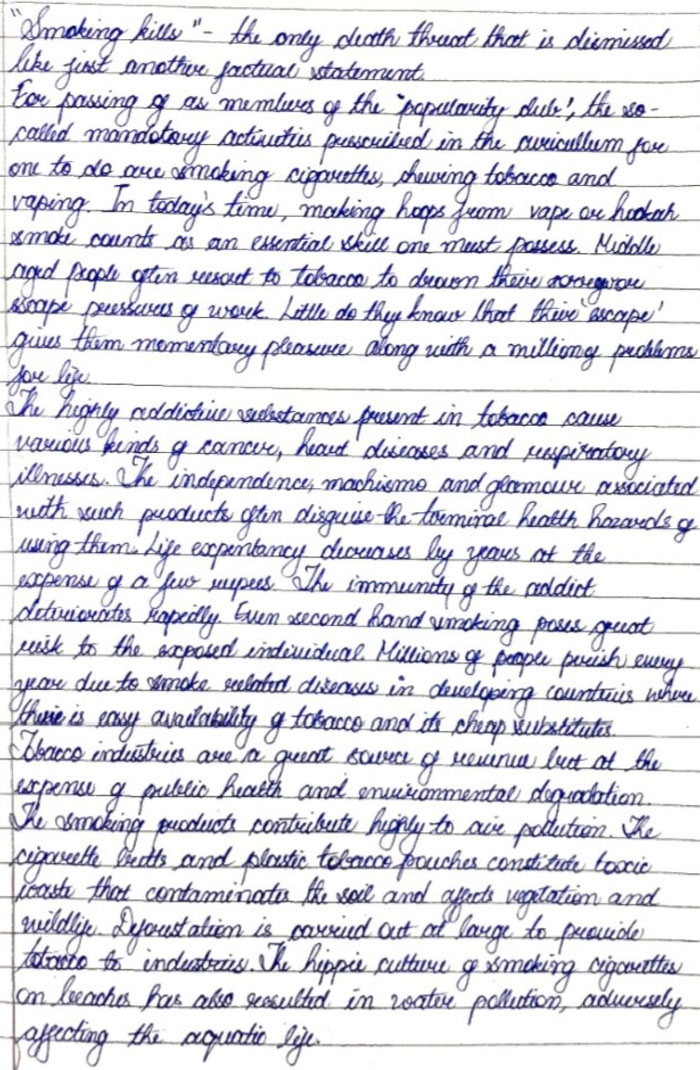 Name : Shriya Gupta
Class : 11
School : St. Mark's Sr. Sec. Girls School
Father's Name : Mr. Vinay Gupta
DOB : 27 June 2004
"Play gives children a chance to practice what they are learning." - Mr. Rogers.



Play is one of the most important means by which children learn. Play supports learning, promotes language and social development and enhances creativity in children. They learn more efficiently and effectively through play than one can imagine. That is how our little one Pehel Luthra of Class I-B is

practicing while playing...
"It's the little conversations that build the relationships and make an impact on each student" - Robert John Meehan.



The early years of a child's life are the most important - a time of rapid development physically, intellectually, socially and emotionally. Pre-primary education is concerned with continuing the balanced overall development of the individual child through learning experiences in both the school and the community.

St. Mark's Girls School organised a Virtual Orientation Programme on 21 June for the new set of parents to familiarise them with the curriculum, rules and regulations of the school, teaching methodologies and the co- scholastic activities. Our Principal Ms. Sheena Kalenga and the Vice Principal Ms. Sabina Shergill spoke at length about the benefits of effective communication between parents and teachers. They even shared a few tips on Good Parenting. Moving further, they also spoke about different ways of nurturing a child with love and care to build a strong foundation for a glorious future. During these learning experiences the child should observe positive relationships between home and school, parent and teacher. It is through the combined efforts of all those adults that children will be given maximum opportunities to develop and learn in our wonderful school.
A great mystic poet, Kabir Das, is one of the leading spiritual poets in India who has given his philosophical ideas to promote the lives of people. His philosophy of oneness in God and Karma as a real Dharma changed the minds of people towards goodness. His love and devotion towards God fulfill the concept of both Hindu Bhaktism and Muslim Sufism. It is by his wonderful songs, the spontaneous expressions of his vision and his love, and not by the didactic teachings associated with his name, that Kabir makes his immortal appeal to the heart.

Mahika Gupta, a student of Class XI (Humanities) of St. Mark's Girls Sr. Sec. School describes in detail about Kabir Das and his teachings. Her report is based on the study from the India Culture Portal, promoted by Ministry of Culture Organisations.
Summer Vacation is a time when all wonderful things happen. Scorching Sun, lazy noons, board games, the month of June. Here, Nidhi Nair of Class I-D and Aadhya Nair of Class I-E are ready to share with us, a wonderful recipe. Let's beat the heat with this summer treat.
Study Report V
INDIA CULTURE PORTAL
Mahaprasad at Jagannath temple, Odisha

Mahaprasad is the term applied to the 56 food items offered to Lord Jagannath in the holy Temple of Puri, located in Odisha, India. Prepared by 600-700 cooks and partaken by up to 50,000 pilgrims daily, generating a business of Rs 7 to 8 Lakhs. The mouth - watering 'Mahaprasad' of the Jagannath temple has retained its appeal among tens of millions of devotees for ages. The place where it is cooked is the biggest open air eatery in the world and it is only cooked in earthen pots on wood fires.

The temple authorities are now planning to take online booking of the Prasad and go ahead with home deliveries.

Khushi Gupta, a student of Class 12 (Humanities) of St. Mark's Girls Sr. Sec. School describes in detail about this saatvik food. Her report is based on the study from the India Culture Portal, promoted by Ministry of Culture Organisations.
Imagination is more important than knowledge.
Knowledge is limited.
Imagination encircles the world.

- Albert Einstein

A virtual Inter-School Competition was organized by K.R. Mangalam World School wherein participants from more than 30 schools across Delhi showcased their talent. It was a blend of various literary and scientific events which aimed at providing a unique opportunity to the students to explore their creativity and provide them a healthy confluence of scholastic and co-scholastic activities.

Samika Kapoor of Class V of our school won the First Prize in the event 'Wake Up The Inventor Within You'. The students were supposed to send a video clipping highlighting the benefits of their self created future invention in the field of tele-communication. Samika was highly appreciated for her innovative idea (invention) – A Mobile Phone ATM.

The event served as a wonderful platform by giving an opportunity to the students to learn and explore beyond the walls of the classroom.
Rudra Veena (a string instrument) literally means 'the veena dear to Shiva'. Lord Shiva is also said to have created the Rudra Veena inspired by his wife Parvati. Originating from the Indian sub-continent, it is considered one of the most difficult string instruments played. The instrument has sociological and cultural connotations and dimensions in Indian culture. Saraswati, the goddess of learning is visualized as holding a veena in her hands. Today, the veena is losing its importance to other string instruments. It is interesting to note that nowadays young musicians of our country are trying hard to keep the ethos of the veena alive.

Who could best exemplify the importance of this instrument, but a budding singer like Ashmita Sawhney of Class XII Humanities of St. Marks Girls Senior Secondary School ?

Her report is based on the study from the India Culture Portal, promoted by Ministry of Culture Organizations.
"

Art can help students become tenacious, team orientated problem solvers who are confident and able to think creatively

."

Students and Teachers of the St. Mark's Girl's Sr. Sec. School attended the live interview of Smt. Rohini Hattangadi, a renowned theatre and film artist best known for her powerful performances in movies like

Saransh and Gandhi

.

Smt. Hattangadi shared with the students some interesting experiences from her life as an actor and how it shaped and impacted her as a person.

Among other important life lessons she described the insight she got into the magnificent life of Mahatama Gandhi while playing the role of Kasturba in Gandhi, the role that made Smt. Hattangadi the only Indian actress to win BAFTA for best actress in a supporting role.

Such interviews really help young developing minds to get inspired and choose correct role models in life.

The session was extremely interesting and it left us a little more inclined towards art and a lot more inspired.
Begums of Bhopal



"

There is no force more powerful than a woman determined to rise

".

The history of the Begums of Bhopal tells the generation, what women can do in a man's world. They never gave up to their feelings of self doubt and never backed out from challenges. They took important decisions and helped in promoting education, preserving heritage and culture during their times. Today, the beautiful Sanchi stupa stands testimony to the efforts of the Begums, in restoration and preservation of the stupa.

Shriya Gupta of St. Mark's Girls Sr. Sec. School of Class XI Humanities throws light on the achievement of these Begums. Her report is based on the study from the India Culture Portal, promoted by Ministry of Culture Organizations.
The world was already being swept with the digital Tsunami when this unprecedented pandemic made the entire world embrace the Digital Age like fish takes to water. Taking note of this sudden dependence on various Digital platforms the Ministry of Culture of India thought to make the most of these uncertain times and in an effort to collaborate Culture with Digitization they organized a wonderful initiative THE INDIAN CULTURE wherein an open ended opportunity was presented to the students of various schools to bring alive the eloquent and diverse cultural heritage of India with the help of digitization.

Being a part of this stupendous change students of St. Mark's Girls Sr. Sec. School, Meera Bagh participated whole heartedly to showcase their artist verve in a digitized expression.

Our students - Drishti Harjai, Samaira Goel, Prachi and Garima Dabas of Class X, through their impeccable miniature paintings brought this extremely intricate part of our culture at the helm of everyone's perusal.

This wonderful opportunity helped these students to humanize history and culture by establishing a linkage with their past and become conscious about the true connected nature of the world that we live in through the Digital Age.
As per the Directorate of Education (Govt. of NCT), the National Mass Deworming Programme was held on 10 Feburary 2020 in the school, wherein all students of Classes Seedling - XII were given a single dose of a chewable tablet 'ALBENDAZOLE'. Albendazole also known as albendazolum is a medication used for the treatment of a variety of parasitic worm infestations and is taken orally. The government's objective is to deworm all children between the ages 1-19 years in order to improve their overall health and quality of life. The parents of classes seedling to V were present in the school to monitor the administering of the tablet.
Any democracy is incomplete without a Parliament; for a Parliament is the one that draws lines that must not be crossed. As our school is celebrating the 'Constitution Year', so today, on 31st January, the students of Class IX had gathered and put in their appreciated efforts to present a Mock Parliament, where they debated the merits and demerits of much discussed topics of the country - Swach Bharat Abhiyaan, 'Beti Bachao, Beti Padhao' scheme, Citizenship Amendment Act (CAA) and National Register of Citizens (NRC). The students of both, the ruling party and the opposition debated confidently. Students enjoyed and walked away with a new perspective of things in their mind. It was a learning experience for both the participants and the non-participants. Every student had an enriching experience.
A little care makes accidents rare

.

The above stated was rather practically taught by an initiative taken by Toyota Motors Pvt. Ltd. wherein young students put in their expertise and participated in various Inter - school events held at Vidya Bharti School, Rohini.

The event aimed at teaching the ABC of road safety, to produce smart and safe future drivers and to inculcate responsible and nurturing values while on road.

The competitive nature of the event made the students put on their thinking caps and display enthusiasm and a winning spirit.There were various competitions such as Debate, Ad Mad, Role Play, Skit etc.

In the wake of the event, our school bagged the third prize in the debate competition on the topic: 'creating safe and smooth highways is more important than a few trees'. The winners: Akaisha Arora (VII-D), Sahaj Agrawal (VII-E) and Shreya (VII-A) were honoured with certificates from the Chief guest for the event; Mr. Parvez Ahmed; Additional Commisioner Police (Traffic).
"

Death is at any time blessed, but it is twice blessed for a warrior who dies for his cause, that is, truth.

"

The SMGS gave homage to Mahatma Gandhi on his death anniversary by observing 2 minutes silence at 11 a.m. The students were enlightened about Martyrs' Day Celebration to honour the sacrifices made by Gandhiji and countless other brave Indians.

The students and the staff members remembered the sacrifices made by the valiant soul for justice and liberty of the nation.
"FILMMAKING IS THE ULTIMATE TEAM SPORT." - Michael Keaton.



FILMIT is a multi-cultural project of INTACH that aims at nurturing cultural understanding, care and concern amongst school children through the exciting experience of making and sharing films. The short documentaries made by our amateur film directors were much appreciated by the jury members.

As a part of this project we won the following awards in following categories:

1. BEST DIRECTION (Bachpan ki yaadein...budiya ke baal).
2. BEST CREATIVE SCRIPT (Gandhiji ke 3 bandar).
3. BEST STORY LINE (Panakkam).
4. BEST DOCUMENTARY FILM WITH A MESSAGE (River Yamuna).

The members of the winning team that represented our school are as follows:

Bhani Ahuja (VIII-C)
Roshni Verma (VIII-C)
Neha (VIII-C)
Khanak Bhojwani (VII-E)
Ashmeet Kaur (VII-E)
Dishika (VI-C)
Ojasvi Bakolia (VI-C)
Khushi Badsiwal (VI-D)
Mannat Bhogal (VI-D)
"

Creativity is intelligence having fun

".

Living by the ethos of "

learning by doing

" the students of Class I to IV enjoyed a number of fun filled activities when parents guided the students to create varied craft items and had fun with numbers during the Skilled Parent Activity. It was a time of learning and cognitive development for the students. Taking them to the imaginative journeys of magic and mystery, the story telling session conducted by parents was surely therapeutic. Our little cherubim were completely mesmerized. The students of Class III imbibed new culinary skills in flameless cooking. It was an exhilarating experience for children as the activities aimed at holistic growth and nurturing of students.
As citizens of India we are entitled to certain rights as well as duties. We always remember our 'Fundamental Rights' but often forget our 'Fundamental Duties'. The students of Class VIII of St. Mark's Girls Sr. Sec. School, Meera Bagh took a small step of creating a more aware society. They took out a rally in school neighbourhood and talked to the people about our Fundamental Duties like safeguard the public property, respect the National Anthem and flag, render our services to the nation, have brotherhood, etc.

The aim was to remind them of our duties towards the nation. Students participated with full vigour and zeal.
"

The way lies ahead in pursuing, not pressurizing children.

"

On 20 January, 2020, the Hon'ble Prime Minister, Shri Narendra Modi's interaction with students, teachers and parents through the programme "Pariksha pe Charcha, 2020" was telecasted for students. The focus of this interaction was on minimizing examination stress ahead of the Board Examinations. Through inspiring examples of the Indian Cricket team and Chandrayaan 2, the Prime Minister urged students to remain confident with their preparation for the exams, not loose nerve under pressure, learn from their failures and make relevant use of technology for the betterment of our society. He also urged parents and teachers to 'pursue, but not pressurize the young minds', by burdening them with unrealistic expectations. The young minds should be given freedom to choose the subjects of their choice, and also maintain a balance between curricular and co-curricular activities.
Vidhi Nagpal and Namrata Gulati of Classes XII-A and XII-C respectively qualified the zonal round of one of the most prestigious competitions 'The French Spell Bee' powered by Le Frehindi, Paris. They bagged gold medals for their commendable performances. It was held at C. D. Deshmukh Auditorium, II-C, India International Centre, New Delhi. The competition witnessed the participation of school students learning French language across the Asian continent. It was a novel and thrilling experience for the two of them, who've made us proud.
The statistics are always scary when it comes to the number of instances of sexual or physical violence against women in India at any given hour, day or year.

Our honorable Chief Minister talked to the students on 'Sexual Violence' on 23 Dec. 2019. He emphasized on the need of a robust conversation around men, which must begin in schools. Boys must be taught that its wrong to talk disparagingly about women, make lewd remarks and leer at them. This cannot be left to parent alone. They were even made to take an oath that they would not misbehave with the girls. On the contrary, they will help if they see a girl in trouble.

It should be a part the school curriculum from primary school onwards where attitudes are shaped, for older students, Gender sensitization should be mandatory. Violence against women against is so deeply rooted in India, that this sensitization should be prioritized as much as basic reading a writing skills.

Girls must be encouraged to be strong, vocal and intolerant of transgressions, however small.
The English Recitation Competition of Class Seedling was held on 19.12.19.

Oh! what a beautiful way to express something through innocent words and actions in a melody with all smiles and giggles. This is what our tiny scholars of Seedling did with all their confidence as they stood on the stage in front of everybody and spoke out loudly to mark their presence felt.

As we all know, poem is meant for enjoyment. Beauty is the realm of the poetry, the children enjoy the beauty of expression, thoughts, feeling, rhyme, rhythm and music of words. Taking all these facts into consideration the children got an opportunity to exhibit their talent and confidence. The children chose a variety of topics for their recitation like nature, trees, flower, mother, teacher, unity in diversity etc. and participated with a lot of zeal and enthusiasm.

The winners of today's event were :



First Position - Mannat Kaur (B)
Second Position - Yoshima Gandhi (B)
Third Position - Pushti

Consolation : Harbani Kaur and Danika Chowdhary.
"

For good ideas and true innovation, you need human interaction, interaction and debate

."

St. Mark's Girls Senior Sec. School organized an Inter Class Debate Competition for Class V on the topic 'Working Mothers Vs Homemakers'. The students expressed their views with a lot of passion and enthusiasm and put forward their opinions on the much debated topic. The judges appreciated the participants and announced the winners.

First prize was bagged by Tiya Singh (V-E), whereas Ranya Malhotra (V-C) and Kamya Vashishth (V-B) secured the second and the third position respectively.
Grandparents are a family's greatest treasure, the founder of a loving legacy, the greatest storytellers, the keepers of traditions. Through their special love and care, grandparents keep a family together. To make the bond stronger, 'Spend a day together' session was organised by our school in which grandparents came and taught good moral values to the children through stories and their experiences.
"

Grandparents make the world a little softer, a little kinder, and a little warmer

." Grandchildren don't need a lot of toys. The best thing a grandchild can have is a grandparent who gets down on the floor and plays with them.

Through their special love and care, grandparents keep a family close at heart.

We, at SMGS, took this opportunity to express our love and respect towards the elderly people in our society and also to model this culture in our children.

The students of Class Sapling shared wonderful stories with them. In return, the grandparents also showered them with their mesmerising stories, games and danced with students enthusiastically.
'

'Creativity is a natural extension of our enthusiasm.'

'

For a holistic development of the children SMGS conducts a plethora of activities on a regular basis so that our students can carve out a niche for themselves in today's competitive world. To instill a passion for creativity and learning - A Skilled Parent Activity was organised for the students of Classes I to IV, where children enthusiastically learnt to

create amazing craft items, had fun with numbers and even enjoyed flameless cooking

. The activities aimed at stimulating the cognitive processes and enhancing the manual dexterity of the students. They were enthralled when they were narrated stories which gave wings to their imagination and took them to a flight of fantasy. The students had a blissful day full of learning and fun.
"Uttering a word is like striking a note on the keyboard of the imagination." - Ludwig Wittgenstein.



SMGS conducted an illuminating Elocution on 15 October 2019 for the students of Class VII. It is rightly said that the art of communication is the language of leadership. Our young speakers spoke in a very enthusiastic and sanguine manner as they leashed out their perspectives on the topic, 'traffic fines'. Students not only learnt the skill of speaking on stage with appropriate expressions but also created awholesome awareness for the audience. They talked about the recent news of hike in traffic fines and also discussed its related pros and cons. All the participants performed exceptionally well, winning accolades for their great articulation. Students were awarded with encouraging certificates, Shreya of Class VII-A bagged the first prize, second prize was awarded to Akaisha Arora of Class VII-D, third was won by Varnika Attri of Class VII-F. Last, but not the least students were also bestowed with consolation certificates, Pranjal Mighlani of Class VII-D received the first consolation and Jasmeet Kaur of Class VII-A got the second. The young and gifted orators had won the hearts of the judges, who were overwhelmed by their oratory skills and preparation. The expression and talent of the young ones made the event truly memorable.
Grandparents are the family's greatest treasure, the founders of a loving legacy, the greatest storytellers and the keepers of traditions. Their bed time stories are an integral part of everyone's growing up years. We, at SMGS invited grandparents to spend their valuable time with the toddlers. They told them stories and interacted with the children. It was a day filled with sweet memories for our kids.
In the time and age of auto-correct predictive text and spell check, the Spell Vocab Quiz was conducted for grade I to V. Students participated with great enthusiasm and discovered the English language in depth.

The quiz made students aware of spellings and its usage with many unfamiliar words. It was a wonderful learning experience not only for the participants but also for their peers and served to enrich the vocabulary bank of the students.
"

Life is one big fancy dress party.

"

One of the most awaited events of the year, Fancy Dress Competition was organised for the students of Seedling at SMGS on 16 September 2019. It was a pleasure to watch our little ones dressed up in different characters and speaking with confidence. It encouraged our students to overcome their stage fear, by bringing out their inner talent, and providing them with a platform to build their self confidence and explore their inner strength.

They were filled with a lot of enthusiasm and excitement as our tinytots walked forward displaying their vibrant costumes. The spectators got truly mesmerized.



First Prize : Mannat Kaur (Seedling B)
Second Prize : Samaira (Seedling F)
Third Prize : Jiara (Seedling F)

First Consolation Prize : Ruhi Gogia
Second Consolation Prize : Anaisha Goel (Seedling E)
Third Consolation Prize : Jasroop (Seedling E)
Fourth Consolation Prize : Deekshi Gaur (Seedling E)
Our students enjoyed the live telecast of the 'Fit India Movement' launched by Prime Minister, Mr. Narendra Modi on 29 August 2019, a day remembered as the birth anniversary of the great hockey wizard, Major Dhyan Chand. In his speech Mr. Modi stated that the initiative is the need of the hour and will take the country towards a healthier future. This live, colourful ceremony included various presentations of India's indigenous martial art forms, dances and sports. He also said that the technology has contributed to a sedentary lifestyle and that now our physical activities have reduced as compared to earlier times. The ceremony was attended by various prominent leaders and it ended with the prize distribution ceremony.
New opportunities seldom come without us seeking them. However such a rarity became reality when we were invited to the second edition of Liberte MUN at Indian Institute of Technology and Management (IITM) on August 24 and 25, 2019. The hardworking secretariat of Liberte MUN 2.0 aimed to communicate brilliance and luminate young minds by giving them an opportunity to engage in world changing debates.

The debate commenced with Secretary General declaring the conference open followed by a session which involved familiarising us with the rules and procedures of the conference by the respective Executive Board members. The students laid down their shy attitudes and transformed into delegates or ambassadors, in a very professional manner defended the policies of the allotted countries. The delegates derived solutions to the globally daunting problems through interactive sessions. This platform gave our students an opportunity to meet highly experienced and equally enthusiastic delegates thereby increasing our knowledge, debatingskills, diplomacy and negotiation skills. The delegates were also involved in the documentation process which includes the drafting of resolution, action plan or communique as per the discretion of the Board.

The event ended on a high note with a number of delegates being awarded prize. Mehak Sharma (XI-B) won Special Mention in WHO, Radhika Gupta (XI-C) and Mehak Sethi (XI-A) won High Commendation and Special Mention in

UNCSW

respectively. Also, Tisha Pasrija (XI-B), Riya Gupta (XI-B) and Jhalak Malhotra (XI-B) won Verbal Mentions in UNCSW.
Model UN or MUN, is an educational simulation and an academic activity in which students can learn about diplomacy, international relations, and the United Nations. The school organized an Inter-Class Model United Nations for Class X. The organization of this simulations in the format of the UN procedures and formalities gave a guiding idea to allow the students to experience multilateral negotiations and become acquainted with the process in which members of the UN utilize in order to achieve resolutions. Students who were part of this were greatly benefited from MUN in a variety of ways. They tried to learn Diplomacy, and Strategy, and enjoyed themselves because it empowered them with a deep knowledge of international current issues, and taught them how to think in another country's perceptive. They discussed the cutting-edge issues and gave solutions for grave problems. It involved and taught the participants speaking, debating, and writing skills, in addition to critical thinking, teamwork, and leadership abilities. Participants in Model United Nations conferences, known as delegates,conducted research before conferences and formulated positions that they then debated with their fellow delegates in the committee.Our Vice Principal Ms. Sabina Shergill encouraged and lauded the efforts of the students.It was a very exiting experience that helped them to widen their views on international affairs.
As per Directorate of Education, second round of National Mass Deworming Programme was scheduled at SMGS on 8 August 2019 wherein all students of Classes Seedling to XII were given a single dose of a chewable tablet 'Albendazole'.

Albendazole, also known as albendazolum, is a medication used for the treatment of a variety of parasitic worm infestations. It is taken by mouth.

The parents of junior classes were asked to come to school to personally monitor the administering of this tablet given to their ward. After having the medicine, primary students were accompanied by their parents back home.
Fancy Dress Competition is one of an exciting way to blend fun with learning. It also develops confidence among children. Children get a chance to mimic and impersonate any character which in turn enhance their creativity.

SMGS conducted Fancy Dress Competition for the students of class Sapling. Children came dressed in colourful costumes and spoke on character they depicted. Kudos to all the children for making this activity a big success.

Jaisveen Kaur of Sapling E bagged the first prize.

Divyanka Gupta of Sapling F stood second and Avanya of Sapling F stood third.

1st consolation prize awarded to Adhya Singh of class Sapling C.

Avneer Kaur of Sapling C took the second consolation and Divitya Khanna of Sapling A was awarded with 3rd consolation prize.
"

Poetry is when an emotion has found its thought and the thought has found words.

"



St. Mark's Girls School organized English Recitation Competition for Classes I, II and III. The children brought some very beautiful poems in front. The audience applauded all the performances. Prizes were given for the best performances.

Winners are as follows :

Class I
I Prize - Bandana (I-A)
II Prize - Viha Chugh (I-E)
III Prize - Manal Sharma (I-A)
Consolation Prize - Pranavi Chandra (I-C)
Consolation Prize - Bhavya (I-A) and Kriti Sangwan (I-E)

Class II
I Prize - Arzoi Dhamija (II-A)
II Prize - Prabhseerat Kaur (II-C)
III Prize - Manshika Dua (II-A) and Prishita Dua (II-C)
Consolation Prize - Humeira Khanna (II-A)
Consolation Prize - Navya (II-B)

Class III
I Prize - Mishika Arora (III-B)
II Prize - Ritika (III-C)
III Prize - Sanchi Gogia (III-A)
"

What we learn with pleasure, we never forget.

"

Keeping this thought in mind our school organised a Parent Skill Workshop for the Children of Class I, II and III wherein the parents were invited to teach new skills to the children. The parents conducted fun filled activities for the children like story narration, dance, craft and many more. Our tiny tots enjoyed learning in a new way. The children and the parents were enthusiastic throughout the workshop.