St. Mark's Sr. Sec. Public School


MEERA BAGH, NEW DELHI - 87
NIPGR is an autonomous Research Institute by the Department of Biotechnology, Government of India. This institute focuses on

high quality plant biology research for crop improvement

. Students of Class XI visited this place on 26 October, 2018 to know about various new technologies like Micropropagation, Genome analysis, Bioinformatics etc.
Students of Classes I and II of St. Mark's Sr. Sec. Public School, Meera Bagh were introduced to the concept of Mobile Planetarium Education organised by Leo Planetaria on 10 and 11 October, 2018. A simulation of the night sky was projected onto the dome depicting the planets, stars and constellations which helped the students to connect to the night sky. The students got fascinated by the shows like Puppy on the moon and Chandamama. This was followed by a quiz wherein prizes were given to the winners and a companion booklet was handed over to all the students.
On August 7, 2018 Ms. V. Lala and Ms. A. Bisht, teachers of St. Mark's Sr. Sec. Public School, Meera Bagh attended a workshop entitled 'The power of objects' in the National Museum at Janpath, New Delhi conducted by Flow India. The workshop was a part of the Museum Learning Master class project. The purpose of the workshop was to bring together a variety of school educators to learn and identify opportunities for enquiry-based learning in and outside the classroom. Emphasis was put on Trans disciplinary mindset in understanding the social reality around us.

It began with the overview by Arundati Mitter on the importance of Museum learning and why it is important to integrate Museum objects to support classroom themes of Indian School curriculum. Through exploration of Museum different artefacts were analysed. Importance were given to use of inferences, imagination and observation to enhance visual literacy. Through use of Objects games like Question dice, 10 times 2 were also played. It ended with interaction on how to make this methodology feasible to the needs of students.
A group of 48 students of classes VI and VII of St. Mark's Sr. Sec. Public School, Meera Bagh along with their teacher incharges went to Nainital for an adventure camp on 11 May, 2018. The students participated in various activities like knot making, caving, trekking, night trekking, rappelling, confidence course, zip line, guerilla warfare, etc. with great zeal and enthusiasm. These well organized activities helped the students to learn jungle survival skills, team – work, discipline and boosted their confidence. They even learnt how to respect nature and about our responsibilities towards wild life. They played some exciting team games like catching a loop, tic tac toe, etc. and took part in journal writing, bonfire and music.
On 23 April, 2018 students of Class VI, XI and XII of St. Mark's Sr. Sec. Public School, Meera Bagh attended workshop at National Science Center. Class VI students got a chance to prepare their own Periscope and class XI and XII extracted DNA using electrophoresis.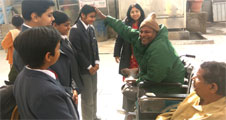 On the occasion of Lohri, students of Class VI of St. Mark's Sr. Sec. Public School, Meera Bagh along with their teachers, Ms. M. Parashar, Ms. A. Jain and Ms. B. Kaur, visited Gurukul Earth Saviours Foundation, an old age home at Bandhwari Village, Gurugram on 12 January, 2018 and handed over a cheque of Rs. 10,000 along with ration and vegetables.

The students cooked vegetables for the abandoned senior citizens in their kitchen and spent quality time with them by interacting with them.
170 students of Class VIII of St. Mark's Sr. Sec. Public School, Meera Bagh visited the Heritage Site - Red Fort on 14 December, 2017. It was organised by Flow India. The tour guides informed the students about the history and rich culture, through a series of fun activities, exploration and subject interaction. They also learnt about the role of the Red Fort in the first war of independence. The students gathered knowledge in a unique way. It was a great learning experience.
A Mughal paradise on earth - 'Humayun's Tomb' is a masterpiece of construction and design from the early era of Islamic architecture in India. Students of Class VII of St. Mark's Sr. Sec. Public School, Meera Bagh were taken around to explore the tomb on 13 December, 2017, to locate and identify the Indo - Islamic features. Various activities such as sketching a picture of the monument, quiz based on the history of the monument were conducted. The students enjoyed the activities thoroughly and learnt a lot.
The Eco Club of Class IV and V of St. Mark's Sr. Sec. Public School, Meera Bagh organized a visit to Indira Paryavaran Bhawan, Jor Bagh Road, New Delhi on 22 September, 2017. The purpose of the visit was to create awareness and motivate the children to celebrate safe and green Diwali. Students took pledge to play safe and ecofriendly Diwali. The Ministry's building was multi-storeyed with 100% onsite power generation which is first of its kind in Asia. Our students experienced an exhibition on 'Harit Diwali Swasth Diwali', where they were also given badges, and hand made Diya's. Also, they were thrilled to see the Automatic Robotic Parking system and puzzle parking system. All the students will receive certificates signed by Ministry of Environment Forest and Climate change.
A group of 131 students of classes VI to VIII of St. Mark's Sr. Sec. Public School, Meera Bagh accompanied by their teacher incharges attended an Adventure camp to Mashobra from 18 May, 2017 to 21 May, 2017. They stayed at Wild Woods Camp and participated in various activities like rock climbing, rappling, zip line, hangman, mountain biking, etc. with full zeal and enthusiasm. They played some exciting games like catapult making, catching a loop, tic tac toe, balloon throwing, etc. These activities really helped them to gain confidence, to respect nature and to survive in the wilderness.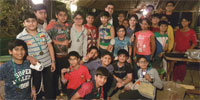 Year long activities of Astronomy Club (Module 1) culminated with Night Sky session on 25 March, 2017. Students of Astronomy Club alongwith their teacher incharges attended night sky observation at 'Camp Mustang' in Badshahpur. Students observed Jupiter, Saturn and various constellations – Orion and Pleids. Winners of various competitions held during the year were awarded with medals.

It was an exciting fun filled evening with lots of adventure for the students.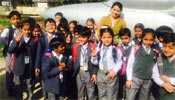 Students of Class I of St. Mark's Sr. Sec. Public School, Meera Bagh were taken to the Traffic Training Park in Punjabi Bagh on 14 March, 2017. They were shown the model of a helicopter and an aircraft kept there.

The children were explained the road signs and traffic rules by the teachers followed by a lunch in the lawn. It was a good learning experience for the children as they learnt the importance of road safety.
"

A man is but the product of his thoughts. What he thinks, he becomes

."

The birth of Mahatma Gandhi marked a revolution in the world history – and the visit to 'Pravasi Bharatiya Kendra' or 'The Digital Gandhi Museum' by the students of IX, X and XI of St. Mark's Sr. Sec. Public School, Meera Bagh on 13 and 14 January, 2017, proved to be helpful in augmenting their knowledge about this revolutionary man, his ideas and contributions in achieving Indian Independence. The techno savvy way of representing Gandhian ideas and work intrigued the students a lot.
CLICK HERE TO VIEW THE EXCURSIONS OF PREVIOUS YEARS